Young Llama Thoughts
Adventurous

Christian Friendly

Easy Reading

Humerous

Youth Appropriate
Overall
4.2 Llamas










Review
Ok, this book is a top notch amazing book! I love it, I'm obsessed with it, and I need to read of the series right now!!!!! This book is fantastic for teen boys 16 and up!!!!! And it's Christian-friendly!
This book is about Spencer, a normal boy with a below average life till he gets invited into a Christian spy organization. Skeptical at first, now Spencer is thrown into a life of spies, cults, and a mystery just waiting to be unraveled. But when he gets in too deep, he might need to trust that this spy business means more faith than he thought…
I loved this series!!!!!!! I have another series by this author and when I saw this one I knew I needed it!!!!! It is sooo good, pretty clean and is Christian-friendly. There is action, mystery, adventure and lots of talk about Christianity, Faith and God. There is also lots of talk about spiritual warfare and prayers which is very cool.
There is some real-world talk in the book, mention of drugs, alcohol, tattoos. There is also a form the kid has to sign when he joins the spy organization which mentions several things that he is not allowed to do. (Code Words!!!) Stuff like drinking, drugs, 'ex, fighting and 'orn. It is only mentioned not really described, but that is why it is a 16 and up book.
Now the only part of the book that I was a bit weirded out by was the way it described spiritual warfare. They had this test the recruits had to take to find out their spiritual gifts, and a prayer room where people have visions and there are secretaries that write down what they see… That's not how that works… The book was making it seem like prayer and spiritual gifts can be used on command. Which is rude to God and a horrible way to misuse His gifts. But thankfully this is fiction and this isn't real, so besides the weird praying stuff I love this book!
Over all, this is a great action packed, clean book for boys! And I totally suggest it!!! And I can't wait to read the rest of the series!!!!! -The Young Llama Reader.
Pros
A fantastic book for teen boys 16 and up!!!
Christian-friendly!!!
A great spy novel!!!!!
Cons
Mention of adult topics…
Some violence…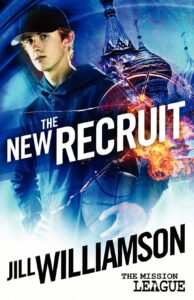 Forced to choose between military school and a Christian spy organization, skeptic Spencer Garmond signs on with the Bible geeks. But before he even boards the plane for Moscow, Spencer realizes this is no Bible club.
These guys mean business.
Stumbling onto a case involving a gang of homeless boys, a chilling tattoo, and the always beautiful Anya Vseveloda, Spencer struggles to find the faith needed to save the Mission League from enemy infiltration.
The New Recruit is the first book in a thrilling new spy adventure series designed for reluctant tween and teen audiences.
Was this post helpful?
Let us know if you liked the post. That's the only way we can improve.