I recommend a favorite book every month. It might be fun or a little sad, science fiction or realistic, but it has to be pretty awesome to get picked.
And, check it out, we will have a themed llama graphic for each month. That is adorable!!! My dad is amazing at making graphics.
November's Book of the Month
A Million Dollar Throw by Mike Lupica
4.4 Llama's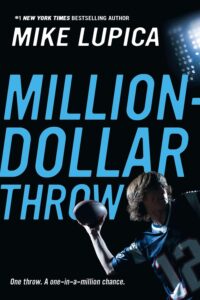 I just love sport books!!! From baseball to football they are sooooo good! However, Mike Lupica writes some of the best books especially for boys 10 and up!!! And this one is sooooooo good! With an amazing plot line, interesting characters and a heartwarming story I totally suggest it!!!!!! Go and get it now!
-The Young Llama Reader.