I recommend a favorite book every month. It might be fun or a little sad, science fiction or realistic, but it has to be pretty awesome to get picked.
And, check it out, we will have a themed llama graphic for each month. That is adorable!!! My dad is amazing at making graphics.
December's Book of the Month
Keeper of the Lost Cities: Book 8.5 Unlocked by Shannon Messenger
4.7 Llama's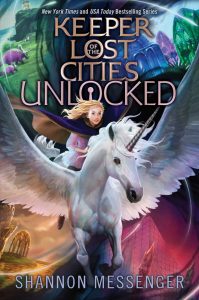 Ok, this is my favorite series!!!! And THIS is my new, all-time, favorite book!!!!! It is 800 something pages long, but instead of your usual novella, it is filled with beautiful art, a map of the world, recipes, files on your favorite characters and more!  I TOTALLY love this book!!!!!!!!!! The series does have some violence, a bit of magic and some awesome plot twists and cliffhangers! I suggest this series to 8 and up girls. And I hope you all have a Very, Merry, hopefully not Hairy, CHRISTMAS!!!! -The Young Llama Reader.