Young Llama Thoughts
Adventurous

Christian Friendly

Easy Reading

Humerous

Youth Appropriate
Overall
4.5 Llamas










Review
This book was sent to me by the author, and may I just say as her first novel, it's amazing and I need more!!! The characters are interesting and so well written, the story line is suspenseful and fun, and this book has quickly won my Golden Llama Award! (Which is just a fancy way of saying it is a super clean, interesting read that I think anyone would love!)
This book is about Amelia, a ordinary librarian content with the life she has, and her brother Leon, who wants more than the simple life he lives and will do what it takes to get it. When they witness a crime in the woods on their way to the Vilnarian Empire, the siblings are caught up in a lie that is quickly spinning out of control. With murders, adventure and a hint of romance, this short story writes out a wonderful world filled with adventure and mystery that will leave you begging for more!!!
I loved this book! This book is filled with adventure, mystery and romance that is perfect for teens 12 and up! It is funny, interesting and sooooo well written! The dialog was amazing, the plot line was spot on, basically I am obsessed with it and love it!!!!! There is some violence, mention of people getting killed or execution victims. (Only mentioned not described.)
Over all, I love, Love, LOVE this book! And I need more!!!!!!!!! I totally suggest this short story to any Christian teen who loves a good fantasy adventure! (Now if you will excuse me, I need to go and re-read this book and love it all over again!) -The Young Llama Reader.
Pros
An amazing book!!!
Fun read, interesting characters and suspenseful plot!!!
Golden Llama Award!
Cons
Some mention of violence…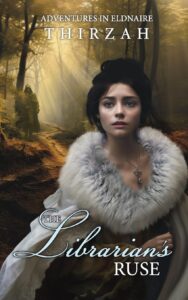 ONE MISTAKE. TWO EMPIRES. COUNTLESS SECRETS.
Amelia's peaceful life as a librarian is cut short when she and her older brother Leon are sent on an errand to Eldnaire, the capital city of the vicious Vilnarian Empire. After witnessing a crime carried out in the woods, Amelia and Leon enter the capital only to be faced with an impossible choice: tell the truth and risk imprisonment, or lie and face far worse if they're caught.
One deception leads to a dozen more, and before she can put an end to the lies, she and Leon are swept up into Vilnaria's high society. Amelia finds an unlikely ally in Vilnaria's handsome new ruler, Emperor Kyvir. But as the secrets and scandals continue to pile up and danger closes in on all sides, Amelia must decide once and for all what matters more: the truth…or her life?
Was this post helpful?
Let us know if you liked the post. That's the only way we can improve.