Young Llama Thoughts
Adventurous

Christian Friendly

Easy Reading

Humerous

Youth Appropriate
Overall
4.5 Llamas










Review
Let me just say I LOVE this book! Not to mention the cover is gorgeous and the adventure is soooooo good! I seriously adore this book and totally give it the Golden Llama Award! (Which is nothing but a fancy way of saying I think this book is clean for anyone… But doesn't the Golden Llama Award just sound better?!?)
This book is about a young boy and his family who decide to vacation in the wildness of South Florida. With horrible asthma attacks and health issues, Algie is supposed to be resting and building up his strength, but much to his mother's dismay, he is ready for adventure and hopefully a scientific discovery that will fulfill his dream of becoming a naturalist before it's too late! But the jungle of Florida may hold more in store than Algie is prepared for. With the help of 2 sisters also determined to make history, Algie might just find something world changing that must remain a secret at all costs…
This book was amazing!!!!!!!!!!! I utterly adore it and totally suggest it! The book has adventure, mystery, action, fun and plenty of interesting animals to keep you entertained to the very last page! It is a very clean read, perfect for boys and girls 8 and up who love a good adventure. And the mystery and suspense is soooo good throughout the entire book! (Basically I love this book, and you should too.)
There is some mention of violence in the book. Some murder attempts, people get hurt, and animals die with mention of blood. (Not really described, but it does mention blood running down or dried blood on an animal.) The book is still very clean, just a warning about the blood. (I particularly don't like blood, so I tend to over-warn about it in books.)
Over all, this book just made it to me top 10 favorite list! And I very much suggest it to kids 8 and up who love a good adventure/mystery with interesting animals and fun characters! Have you all have a book-filled day! -The Young Llama Reader.
Pros
An AMAZING book!!!
Very clean and filled with adventure!!!
Perfect for boys and girls 8 and up!
Cons
Mention of blood and animals dying…
Some violence…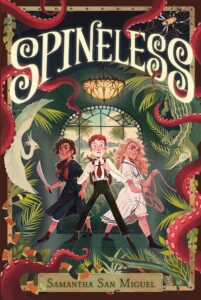 Wild boar, alligators, hammerhead sharks . . . Can twelve-year-old Algie Emsworth survive the swamps of South Florida? More importantly, can he survive his asthma attacks long enough to make a scientific discovery and fulfill his dream of becoming a real naturalist?
With the help of Frankie and Lulu, intrepid heiresses to the Hotel Paraíso, Algie embarks on the adventure of a lifetime as he escapes certain death, discovers a brand-new species, and goes head-to-head with diabolical thieves, all while a deadly and mysterious red tide ravages the beaches and a possible curse threatens to close down the Hotel Paraíso for good.
Can Algie, Frankie, and Lulu save themselves, solve the mystery of the hotel's curse, and save their never-before-seen species?
Was this post helpful?
Let us know if you liked the post. That's the only way we can improve.