Young Llama Thoughts
Adventurous

Christian Friendly

Easy Reading

Humerous

Youth Appropriate
Overall
4.4 Llamas










Review
I am combining books 2 and 3's reviews. It's not because I'm lazy, I'm just a bit lazy! 🙂 These are books 2 and 3 of Maddie Ziegler's Dance series and they are perfect for any young girl who loves to dance!
These books are all about dance, competition, friends, family and teamwork! From school musicals to a dance competition in New York, books 2 and 3 are filled with adventutre, fun and even more dance!!!!!
Both of these books are fun to read. They are clean, interesting for girls and very dance themed! There is a lot of rivalry and teams not working well together. But that is just teaching young girls not to feel jealous when someone else does something differently than you.
Over all, this entire series is very clean and fun to read! And this is one series I totally suggest to young girls!!!!! Have an amazing day! -The Young Llama Reader.
Pros
A very good series for any girl who loves dance!
Clean, fun and kid-friendly!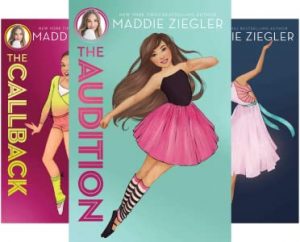 Book 2 After a successful first competition, twelve-year-old Harper is eager to keep on making her mark in Dance Starz. But lately, she's having a bit of "dancer's block." In her one-on-one with her teacher, Harper is reminded that dancing isn't just about the spins and leaps; it's about the emotion and passion for dancing, too. And lately, she hasn't felt that Harper has been living up to her usual standards. Vanessa will be choosing the first soloist to compete at the next competition for the team, and suggests to Harper that she find a way to figure out how to get that mojo back.
Thanks to a chance conversation, Harper joins the school musical. Not only is this an opportunity to polish up her stage presence, but as the newbie at school, Harper is excited to make some more friends.
But some of the teammates are not thrilled that Harper is doing something besides the dance team. Plus, their biggest rivals, the Belles, are looking to go toe-to-toe with them in the upcoming competition—and both teams have something to prove. Harper realizes that the musical, dance team, and school might be a little much. Can she figure out how to find her balance—on-stage and off?
Book 3 Harper and her fellow Dance Starz are headed to New York City for the big national competition! Not only will they be up against their arch-rivals, the Belles, but Harper will also face off against her old dance team. Does Harper have what it takes to finally prove that she belongs on the big stage?
Was this post helpful?
Let us know if you liked the post. That's the only way we can improve.