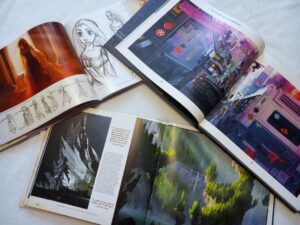 So, as well as being a reader, drummer, sewer, crafter, and sometimes-baker, I am also an artist. And some of my favorite books are art books! But I'm not talking about books on famous painters or books on how to draw; I'm talking about art books from different movies, filled with concept art and behind the scene sketches!!!! (And yes, I have bragged about these books before, but sometimes I like to re-review some oldie but goodie books.)
"The Art of Books" are books all about the art of your favorite movies and TV shows!!! From Frozen to The Mandalorian, there are soooo many different ones out there. These books come in all shapes and sizes and different kinds-of movies. Most of the books I have are Disney movies like Rapunzel, Moana and Zootopia. And the art is amazing in each and every one!!! They have Marvel, Star Wars and more!These books show sketches, paintings and even some CGI glimpses of what making a movie is like. And they have paragraph after paragraph on how they made a certain scene or outfit that totally makes the books 100% better!!!
These books are definitely ones I suggest to artists and movie lovers who want a behind the scene look! Though, I must warn you, some of these books can get a bit pricey ranging from $30ish up to hundreds of dollars! That's why I suggest getting these books used. You can get them cheaper, and in high quality if you look for it, while also getting books that already come with character! 😉 Hope you all have a fabulous day!!! -The Young Llama Reader.
Was this post helpful?
Let us know if you liked the post. That's the only way we can improve.