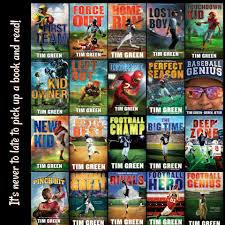 Ok, so awhile ago I was looking for books for boys. Cause one of my friends was complaining about the fact that he can't find any good books that weren't about sports…. Well… I went and found the PERFECT books about sports for guys!!!!!
I know, I know… It may not be what the guys are looking for; but these books by Tim Green are sooooooooo good!!!!! I have been re-reading them lately and I forgot how much I LOVE THEM!!!! And I do not know about ANY sports. I just know that these books are AMAZING!!!!!!
So, if you are looking for any good sport books for boys, these are the books you are looking for! Have a great day!!!!! -The Young Llama Reader.
Was this post helpful?
Let us know if you liked the post. That's the only way we can improve.