Young Llama Thoughts
Adventurous

Christian Friendly

Easy Reading

Humerous

Youth Appropriate
Overall
3.6 Llamas










Review
This book was sent to me by Baker Book House for my review, and it is such a beautifully written romance! This is a great book for girls 16 and up who love historical romance with a bit of mystery and a dash of danger!
This book is about a Jacci Reed, young girl who is hiding a secret that she doesn't even know she has. When her mother is attacked by a stranger, they rush aboard the show boat her grandfather is on. Years later Jacci is an actress on her grandfathers boat but she is still hiding away. When the mystery starts to catch up with her, Jacci must trust old and new friends to keep her safe from a dangerous secret she is slowly starting to discover…
This book was very good. It did have a slow start up, the first few chapters took their time explaining the plot, but once you are pulled into the story the mystery gets really good! This book is very clean, with a fun mystery, a sweet romance and some interesting plot twists. It is a good book for girls 16 and up! Mostly because of the violence and more adult topics. (Nothing described only mentioned) There is violence in the book. People get stabbed, shot, die, fall of ships, mention of murder. Nothing is too described but it is mentioned.
Over all, this is a very good book for girls 16 and up. I think it is very well written and the plot line is beautifully woven into the mystery. This is a book I totally suggest and I hope you all have a great day!!!!!!!! -The Young Llama Reader.
Pros
A great mystery for girls 16 and up!
An amazing historical fiction read!!
Cons
Mention of violence and death…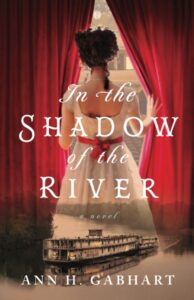 If all the world's a stage, Jacci will play her part. She only hopes her story does not turn out to be a tragedy.
In 1881, Jacci Reed is only five years old when a man attempts to kidnap her from the steamboat her mother, Irena, works on. Badly wounded during the confrontation, Irena takes Jacci aboard the Kingston Floating Palace, a showboat tied up beside them. There, Jacci's actor grandfather tends to her mother and Jacci gets a first taste of the life she will come to lead.
Fifteen years later, Jacci is an actress aboard the Kingston Floating Palace, and largely contented with her adopted family of actors, singers, and dancers. Especially Gabe, who has always supported her, and the gruff grandfather she has come to know and love. Jacci's mother has been gone for years, but the memory of the altercation that ultimately took her life–and the cryptic things Jacci has overheard about her past–is always there, lurking in the back of her mind.
When someone on the showboat tries to kill Jacci, it's clear her questions demand answers. But secrets have a way of staying in the shadows, and the answers she craves will not come easily. Gabe only hopes they come in time for him and Jacci to have a future together.
Was this post helpful?
Let us know if you liked the post. That's the only way we can improve.