Young Llama Thoughts
Adventurous

Christian Friendly

Easy Reading

Humerous

Youth Appropriate
Overall
4.6 Llamas










Review
Me and my sister adore these books!!! Our mom found them for us and when we read them it was like going to another world!!!!!!!!! The books are about these kids who are fighting these unseen battles almost in the spiritual realm. And it is them learning about the Armor of God, and learning to fight with it!
This is the 3rd book in the series and is one of my favorites. In this book the kids finally earn their swords. And then they have to protect everyone they love dear from the Unseen War before it takes  over the world!
The books are very clean and are PERFECT books for kids and teens!!!!! Though there is some fighting in the books, it's not like bloody. And they do fight these 'monsters' called Forgers; and they are kind-of like the Devils minions more than scary monsters. (There just giant pieces of metal with glowing eyes.) The book is kind-of like a Spiritual battle, but it is still VERY clean. (Think Narnia)
Over all, I TOTALLY suggest this series to you. If you are looking for a great Christian book for kids or teens… This is the one for you!!!! Have a great day! -The Young Llama Reader.
Pros
THIS IS HANDS UP, AND AMAZING BOOK FOR ANY KID OR TEEN!!!!
A great Christian book!
Cons
There is violence and a lot of fighting.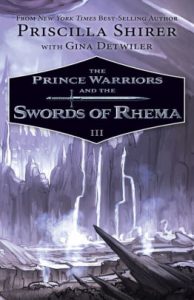 In this third book of The Prince Warriors trilogy, the Prince Warriors finally receive their last piece of armor—the swords they were promised when they began their adventure in the unseen realm of Ahoratos. And none too soon, for they must face the ultimate enemy, one who is gathering his Forgers and creating unthinkable new evil to stop the Prince Warriors from winning any battle ever again.
Was this post helpful?
Let us know if you liked the post. That's the only way we can improve.