Young Llama Thoughts
Adventurous

Christian Friendly

Easy Reading

Humerous

Youth Appropriate
Overall
4.1 Llamas










Review
I adore these books soooooo much! Nancy Springer wrote such a good series! (I did not except these books to be this good, but I am happy to say I was presently surprised!) This is the 5th book in the Enola Holmes series; and I totally suggest reading the rest of the books!
In this book, Enola Holmes landlady goes missing! While still trying not to be caught by her brothers, Enola begins searching for her. But when the story begins unraveling she finds more than she thought. Can Enola find her landlady before it's to late?
I really enjoyed this book. However, the Enola Holmes books do explain what London was like in 1889. So there's mention of people living an the streets, "ladies of the night", kidnappings and murders…. There is also mentions of a war, and the soldiers being cared for by Florence Nightingale. And it does mention soldiers dying, people starving and woman losing babies due to illnesses. (Not to mention, talk of corsets, underclothes and the struggle of women in 1889 London.)
Over all, I very much suggest this book to girls 14 and up! And I totally suggest the other books too!!!! -The Young Llama Reader.
Pros
AMAZING novel for girls 14 and up!!!
A very clean, very engaging read!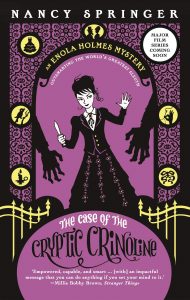 Enola Holmes–younger sister to Sherlock Holmes–is back on another case!
Enola Holmes's landlady, Mrs. Tupper, is the closest thing Enola has to family these days, besides her occasional run-ins with her brother Sherlock. Even though Mrs. Tupper is nearly deaf and can barely cook, she's an endearing presence as Enola longs for her absent mother. So imagine her horror when Enola comes home to find Mrs. Tupper kidnapped! Who would take her, and why? And what does Florence Nightingale have to do with it? From the master of mystery Nancy Springer, here's another absorbing adventure for our award-winning, unstoppable heroine, Enola Holmes.
Was this post helpful?
Let us know if you liked the post. That's the only way we can improve.