Young Llama Thoughts
Adventurous

Christian Friendly

Easy Reading

Humerous

Youth Appropriate
Overall
4.8 Llamas










Review
This was another book that was just sitting on my shelf waiting to be read, and it was sooooooo good!!!! I absolutely love this book and totally suggest it to kids and teens who love a good sci-fi book! (8 and up!)
This book is about a young boy stuck in foster care, waiting for his grandpa to find him and take him home. So when he hears a door bell one day he thinks his grandpa found him. But much to his surprise, an alien is standing there in a kilt and goggles. To him the alien looks like a boy, to everyone else, he looks like a dog. But this dog has tricks up his sleeve and a mission to fulfill. The boy and alien have to find 10 things great about Earth or it will be destroyed… No pressure right?
This book was just too cute! I seriously loved it!!!!! There was a bit of sci-fi, a bit of friendship and a bit of world saving all in one book! I mean it was fantastic!!!! The alien makes trees float, creates real light-sabers and gives them to 6 year olds, builds a wall with time travel. And does it all while everyone thinks he is a dog. (Even the dogs thinks he is a dog. It is hilarious!)
Now obviously, there is mention of the world being destroyed. And the alien/boy is treated like a dog. People put leashes on him, (he does not like it) they throw sticks for him to fetch, (he does not do it) and they give him food on the floor like he is an animal, (this he loves). In their defense, he looks like a dog to them. Course he can open doors, drive and uses multiple weapons. But still this book is very clean and funny!!!!
Over all, I give this book the Golden Llama. I think it is perfectly clean for kids 8 and up. And I very much suggest it. Happy Reading! -The Young Llama Reader.
Pros
A fantastic book about friends and saving the world!
Very clean and super funny!!!
Golden Llama!!!
Cons
Mention of the world being destroyed…
Aliens being treated like dogs…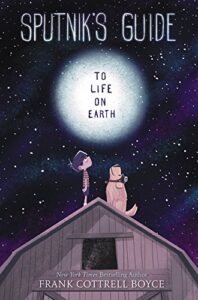 A one-of-a-kind story of heart, humor, and finding one's place in the universe.
Prez knows that the best way to keep track of things is to make a list. That's important when you have a grandfather who is constantly forgetting. And it's even more important when your grandfather can't care for you anymore and you have to go live with a foster family out in the country.
Prez is still learning to fit in at his new home when he answers the door to meet Sputnik—a kid who is more than a little strange. First, he can hear what Prez is thinking. Second, he looks like a dog to everyone except Prez. Third, he can manipulate the laws of space and time. Sputnik, it turns out is an alien, and he's got a mission that requires Prez's help: the Earth has been marked for destruction, and the only way they can stop it is to come up with ten reasons why the planet should be saved.
Thus begins one of the most fun and eventful summers of Prez's life, as he and Sputnik set out on a journey to compile the most important list Prez has ever made—and discover just what makes our world so remarkable
Was this post helpful?
Let us know if you liked the post. That's the only way we can improve.