Young Llama Thoughts
Adventurous

Christian Friendly

Easy Reading

Humerous

Youth Appropriate
Overall
1.8 Llamas










Review
This book was sent to me by Baker Book House for my honest review. And honestly I kind-of despised it. It was sad, depressing and waaaayy to realistic for my Happily Forever After kind-of reading…
This book is about 2 sisters who grew up in the early twentieth century. Living on a cotton farm in the south they have all they could ever want. Never thinking about the slaves in the fields or how their perfect world could fall apart at any moment, Callie and Emmy are content… Till Lily shows up. Then everything changes…
When I saw this book, I thought it might be a little sad. (The gorgeous cover felt sad) But I didn't think it would be downright depressing… There is talk of how the slaves, though treated well, have no say in their lives. Mention of a man trying to have his way with women. Lots of talk of people getting ill and dying. And a very sad mystery that I didn't want to finish…
There was some happy moments here and there, but the book was just 'bleh' to me. I am a happy kind-of reader, not a depressing kind. And this book was too sad for me. It felt liked it jumped around a bit, stuff randomly happens and the story was just ok. I wasn't to interested in the plot line or the characters and the book was just a bit too much for me. (Basically this book is for adults who want a depressing read…)
Over all, I don't suggest it and I don't like it. If you like to cry and boo-hoo at a 18 and up story be my guest. -The Young Llama Reader,
Cons
Depressing and very sad…
Mentions of adult topics…
NOT a kids or teen book…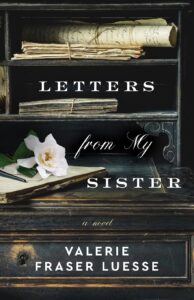 Two Sisters. One Single Event. A Family Changed Forever.
At the turn of the twentieth century, sisters Emmy and Callie Bullock are living a privileged life as the only daughters of a wealthy Alabama cotton farmer when their well-ordered household gets turned upside down by the arrival of Lily McGee. Arrestingly beautiful, Lily quickly–and innocently–draws the wrong kind of attention. Meanwhile, Callie meets a man who offers her the freedom to abandon social constraints and discover her truest self.
After Lily has a baby, Callie witnesses something she was never meant to see–or did she? Her memory is a haze, just an image in her mind of Emmy standing on a darkened riverbank and cradling Lily's missing baby girl. Only when the sisters are separated does the truth slowly come to light through their letters–including a revelation that will shape the rest of Callie's life.
Bestselling author Valerie Fraser Luesse weaves a complex and suspenseful tale dripping with intrigue, romance, and Southern charm.
Was this post helpful?
Let us know if you liked the post. That's the only way we can improve.