Young Llama Thoughts
Adventurous

Christian Friendly

Easy Reading

Humerous

Youth Appropriate
Overall
4.5 Llamas










Review
So I loved book 1 of this series, and then I found out there was 2 more books and I just had to get them!!!! And I am so glad I did!
When Art is convinced something is about to happen at the National Portrait Gallery Museum in Washington, D.C, but he can't seem to get anyone else to listen it will be up to Camille and him to save the day!
This book was pretty good, though not as amazing as book 1 I still enjoyed it! There was action, adventure and missing art all wrapped into an amazing mystery! And this book also has some really interesting facts about stolen art from the past that I found fascinating!
There is some violence, people stealing art, mention of kidnapping and such. But nothing is described or anything this is a VERY clean book series for kids!
Over all, I very much suggest this series to any kid who loves a good heist book! And may you have a book-filled day! -The Young Llama Reader.
Pros
An amazing book!!!
Perfect for boys!!!!!
ART THIEVES!!!!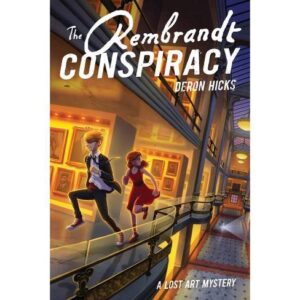 In this standalone companion to The Van Gogh Deception, Art and Camille team up once again to solve a large museum theft, using one of the biggest heists in history to help them solve the case. Perfect for fans of Dan Brown and the Mr. Lemoncello's Library and Book Scavenger series.
Something's brewing at the National Portrait Gallery Museum in Washington, D.C. twelve-year-old Art is sure of it. But his only proof that a grand heist is about to take place is iced mocha, forty-two steps, and a mysterious woman who appears like clockwork in the museum.
When Art convinces his best friend, Camille, that the heist is real, the two begin a thrilling chase through D.C. to uncover a villainous scheme that could be the biggest heist since the Isabelle Stewart Gardner Museum theft in 1990. With a billion dollars' worth of paintings on the line, the clock is ticking for Art and Camille to solve the conspiracy.
Was this post helpful?
Let us know if you liked the post. That's the only way we can improve.