Young Llama Thoughts
Adventurous

Christian Friendly

Easy Reading

Humerous

Youth Appropriate
Overall
4.7 Llamas










Review
So, I kind-of adore this book. It has adventure, action, funny parts and Atlantis!!!! I totally suggest this book to kids.
This is the sequel to Atlantis the Accidental Invasion and I love it. This book is about the 2 kids who discovered Atlantis and escaped, but they brought their Atlantian friend to land and are now trying to figure out how to go back. But when a message shows up with a warning that Atlantis is about to declare war on the land the 3 friends have to team up to head back to the underwater city to save it before there is a full out global war…
This book is awesome! There is humor and adventure, action, some fighting and it is totally clean for kids!!!! (Totally suggest to kids 8 and up!) And the fighting and violence is only mentioned in the book! No blood or guts, just "there will be a war that will probably kill people".
My only real complaint is that authors seem to be writing boys more and more uselessly. Like they are the part of the team that does nothing but mess things up and that isn't true. I am all for girl power, but I also want a some guy power!
Over all, this is a book I totally suggest to kids and one I can not wait to re-read!!!!! I hope you all have a Hat-tastic day!!! -The Young Llama Reader.
Pros
An amazing read!!!
Very clean fr kids!
Golden Llama!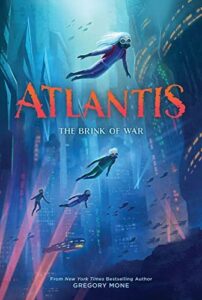 Bestselling author Gregory Mone takes readers back to Atlantis in this action-packed sequel to Atlantis: The Accidental Invasion!
Even an accidental invasion has dire consequences . . .
After their daring escape from Atlantis, Lewis, Hanna, and Kaya, their resourceful Atlantean friend, find themselves pulled between two worlds. Trapped on the surface under the watchful eyes of government officials, the three adventurers receive an urgent call to return their stolen warship to Atlantis—or risk starting an all-out war.
Aided by a billionaire with unclear intentions, the trio embarks on an all-new journey through Atlantis, from the sunken underwater world of Evenor to the tunnels below Ridge City. Will they find Lewis's injured father and return the warship in time? As the shadowy agents known as Erasers work to stop them, Lewis and Kaya begin to question whether they're really on the same side of the potentially devastating fight.
This page-turning, high-stakes sequel to The Accidental Invasion is packed with futuristic technology and pure adrenaline-spiking fun. Bonus content includes science and robotics concepts in the story, and a real scientist's take on the curious biology of mermaids. Two worlds again collide in an unforgettable undersea adventure!
Was this post helpful?
Let us know if you liked the post. That's the only way we can improve.