Young Llama Thoughts
Adventurous

Christian Friendly

Easy Reading

Humerous

Youth Appropriate
Overall
3.8 Llamas










Review
Ok, I love this series!!!!! There is action, adventure, romance, suspense, a bit of magic and just plan awesomeness! (Though I personally liked the 1st book best, the rest of the series is still pretty good and clean.)
In this book, Dustfinger is desperately trying to find a way back to his family. With Farid by his side he finds another Silvertougue to read him back into his book Inkheart, but Farid his left alone, with a killer after the fire-eater and no way to warn him. So Farid finds Meggie and she reads them both into Inkworld. But none of them are expecting the trouble that follows them there…
I really loved this book. It was action-packed, filled with drama and had tons of great plot twists! This book is very clean and I would say is a good classic for kids 10 and up. But there is violence. People get stabbed, shot, burned, people die, or they are dying and the white women (ghost people) hunt them down to take them to the "afterlife" that the author wrote into the book. There is mention of blood, scars and wounds. People do die somewhat violently… But not to described.
There is also a bit of weird magic in the book. The author (in the story not the lady who wrote the book) made a world full of fairies, monsters and these ghosts called White Women who are the spirits that draw the characters into the books afterlife. It isn't voo-doo or stuff like that, they are just creepy ghosts. (Which all ghosts are creepy in my opinion except for the Holy Ghost)
Anyways, some curse words may show up in the book. Just cross them out with a gel pen, problem solved! And at one point the boy see the young girl in your underclothes in the book and freaks out. (Nothing mentioned)
Over all, this is a book I love and will be re-reading! I do suggest this book to kids 10 and up who love a good classic about magic, mystery and adventure! Adios! -The Young Llama Reader.
Pros
A very fun interesting read!
Good for kids 10 and up!
Adventure filled!
Cons
Mention of violence…
Magic…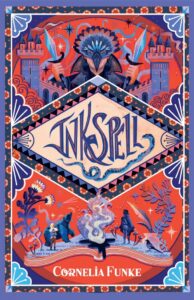 Although a year has passed, not a day goes by without Meggie thinking of INKHEART, the book whose characters became real.
But for Dustfinger, the fire-eater brought into being from words, the need to return to the tale has become desperate. When he finds a crooked storyteller with the ability to read him back, Dustfinger leaves behind his young apprentice Farid and plunges into the medieval world of his past.
Distraught, Farid goes in search of Meggie, and before long, both are caught inside the book, too. But the story is threatening to evolve in ways neither of them could ever have imagined.
Was this post helpful?
Let us know if you liked the post. That's the only way we can improve.