Young Llama Thoughts
Adventurous

Christian Friendly

Easy Reading

Humerous

Youth Appropriate
Overall
4 Llamas










Review
I love E. D. Baker's books! She has written soooo many great books for young girls and this one is just another amazing one! However, her books do have lots of mention of magic. From mythological creatures to fairies from famous plays, this book is filled with pixie dust to the brim.
This book is about Tamisin, a not so normal girl with her pointed ears and sparkly freckles. But when 2 wings pop out of her back she finally realizes that maybe she isn't just a girl but a half-fairy!!! With the help of a half cat-goblin she finds out her real mother is none other than the fairy queen! Though this puts Tamisin in more trouble than she could ever imagine! With trolls, goblins and more after her can she find where she truly belongs?
This book is very good. It's interesting, clean and lots of fun to read!!!! The adventure is very magical and the plot is well written. There is some action, a bit of romance and lots of humor. This would be a great book for girls 10 and up.
However, there is a TON of magic in the book! No voo-doo or creepy magic, but there are creepy monsters! Lots of goblins with half animal features, half snake women who have a lisp from there giant fangs, and fairies with bad attitudes so… Just be prepared for lots of magical beings in the book. (And weird magical monsters)
There is also some violence in the book. When the girls wings pop out, there is some described gross stuff. Fluids, sacks, red peeling skin, thin slits where they come out. I'm not gonna lie, it is gross!!!! Plus there is some fight scenes and people get cut or hurt.
Over all, this is a great book for girls and I do suggest it. But this book might be a bit more magical than some people like, so ask your parents first!!!!! Later Llamaings!!! -The Young Llama Reader.
Pros
A fantastic adventure for girls 10 and up!
Very clean and fun to read!!!!
Cons
Mentions of some violence.
LOTS of magic…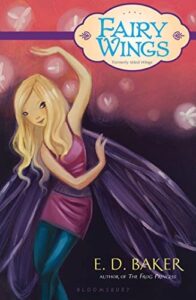 When Tamisin Warner's swim coach sends her home with something sprouting from her back, she feels more mortified than magical. Until the Something turns out to be wings, real wings that can fly! As the magic takes hold of Tamisin's life, she finds she is not just any fairy, but a princess, the daughter of the fairy queen. E.D. Baker masterfully takes readers on a journey to a land of strong heroines, funny sidelines, and a dash of romance.
Was this post helpful?
Let us know if you liked the post. That's the only way we can improve.