Young Llama Thoughts
Adventurous

Christian Friendly

Easy Reading

Humerous

Youth Appropriate
Overall
4.7 Llamas










Review
This is book  of the Hero's Guide series and it is a series I ADORE and totally suggest to kids and teens who love a magical adventure filled with laughs!!!!!
After the Prince Charming's adventures they hoped to earn a bit more fame and respect after saving their kingdoms but alas… life even a fairy tale life doesn't always go they way it should. So when they learn a great evil is rising up again they band together to hopefully save their kingdom and restore their good name!
I love this series. I love how the books are clean but funny, filled with adventure and full of goofy chapters that keep you reading! There is friendship, romance and a band of goofy princes just trying to keep their loved ones safe.
There is some magic. Mention of spells and curses but nothing witchcrafty or anything. Just bibby-bobby-boo kind of magic with no voo-doo. (Aka this is a very clean book. And the magic is considered more goofy than anything else.)
Over all, I very much suggest this book to kid and teens and suggest book 1 as well! Have a happy reading!!!! -The Young Llama Reader.
Pros
An AMAZING read for kids!!!!
Super clean and adventurous!!!!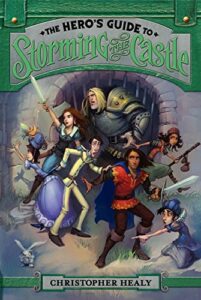 Your favorite princes and princesses are back in the hilarious and action-packed sequel to the breakout hit The Hero's Guide to Saving Your Kingdom by author Christopher Healy, which the New York Times selected as one of its best books of the year.
Prince Liam. Prince Frederic. Prince Duncan. Prince Gustav. You remember them, don't you? They're the Princes Charming, who finally got some credit after they stepped out of the shadows of their princesses—Cinderella, Rapunzel, Snow White, and Briar Rose—to defeat an evil witch bent on destroying all their kingdoms. But alas, such fame and recognition only last so long. And when the princes discover that an object of great power might fall into any number of wrong hands, they are going to have to once again band together to stop it from happening—even if no one will ever know it was they who did it.
Was this post helpful?
Let us know if you liked the post. That's the only way we can improve.