Young Llama Thoughts
Adventurous

Christian Friendly

Easy Reading

Humerous

Youth Appropriate
Overall
4.6 Llamas










Review
Ok, so I ADORE this series!!!!!!! I probably post about Keeper of the Lost Cities more than any other book on here. (And I don't care! It's too amazing to not post about it!!!!!!!!!!!!!!!!) And with the 9th book coming out in 2 weeks, I decided to go ahead and finally get the Illustrated and Annotated Edition of book 1.
This book is the 1st one in the Keeper of the Lost Cities series but with special ad ins! With the same plot line and story you get margin notes, deleted scenes and illustrations from the author!!!! (Which is awesome!!!!) I have been reading this series since I was 12 and I am still obsessed. There are 8 books so far, the 9th is coming out Nov 8th! Plus 2 special edition books. Book 8.5 and this one!
I actually wasn't that interested in this book when it came out. I thought it was a cool idea, but it is still book one with just some extra details. (And I do not like getting repeat copies of my books) But then while waiting for book 9, (15 days!!!!!) I decided to get this one. And now I kind of love it!!!!!
If you are a huge KOTLC fan this book is a really cool insight on the series!!!! I loved reading the margin notes while I read the story and the illustrations were a nice touch. (However, it's still book 1. There is the same action, violence and awesomeness. Don't go and buy it expecting a new book.)
Over all, this book is very cool for fans of the series to read while waiting for the next book. Hope you all have an awesome day!!!!!!!! -The Young Llama Reader.
Pros
AN AMAZING SERIES!!!!!
Perfect for girls 8 and up!!!!
LOVE!!!!!!!!!!!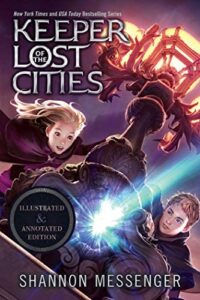 In this riveting series opener, a telepathic girl must figure out why she is the key to her brand-new world before the wrong person finds the answer first. This special edition contains beautiful black-and-white illustrations and commentary from Shannon Messenger!
Twelve-year-old Sophie has never quite fit into her life. She's skipped multiple grades and doesn't really connect with the older kids at school, but she's not comfortable with her family, either. The reason? Sophie's a Telepath, someone who can read minds. No one knows her secret—at least, that's what she thinks…
But the day Sophie meets Fitz, a mysterious (and adorable) boy, she learns she's not alone. He's a Telepath too, and it turns out the reason she has never felt at home is that, well…she isn't. Fitz opens Sophie's eyes to a shocking truth, and she is forced to leave behind her family for a new life in a place that is vastly different from what she has ever known.
But Sophie still has secrets, and they're buried deep in her memory for good reason: The answers are dangerous and in high-demand. What is her true identity, and why was she hidden among humans? The truth could mean life or death—and time is running out.
Was this post helpful?
Let us know if you liked the post. That's the only way we can improve.