Young Llama Thoughts
Adventurous

Christian Friendly

Easy Reading

Humerous

Youth Appropriate
Overall
4.3 Llamas










Review
This book is amazing! The adventure, action and amazing plot line, what's not to love?!?!?! I am totally and utterly obsessed with art thief books and this one did not disappoint!
Art is found in Washington DC's National Gallery with no memory of his life or how he got there. But he does know every painting in the museum and who made it… And when his life seems to be slowly becoming an action movie with kidnaps, art crimes, and mysterious memories start returning Art may find his life a bit more action filled than he thought.
Ok, I loved this book!!!! The mystery, action and adventure are AWESOME!!!!!! There is also QR codes throughout the book so you can scan the codes to see the artwork that the chapter is talking about. (Which I thought was sooooo cool!!!!)
However, there is also some violence. People get hurt, kidnapped, disappear and such. But the art heist in this book is amazing!!!!!! Totally love it!
Over all, this is a book I LOVE! Golden Llama hoofs down! I totally love this book. It's super kid-friendly and I am soooooo looking for more in this series! -The Young Llama Reader.
Pros
Adventure!
Action!
AWESOMENESS!!!!!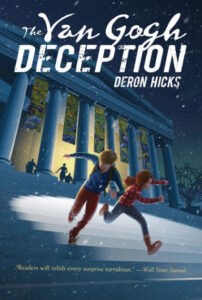 Dan Brown meets Jason Bourne in this riveting middle-grade mystery thriller. When a young boy is discovered in Washington DC's National Gallery without any recollection of who he is, so begins a high-stakes race to unravel the greatest mystery of all: his identity.
As the stakes continue to rise, the boy must piece together the disjointed clues of his origins while using his limited knowledge to stop one of the greatest art frauds ever attempted. Digitally interactive, this breathtaking museum mystery offers QR codes woven throughout the book that bring renowned paintings to readers' fingertips.
Was this post helpful?
Let us know if you liked the post. That's the only way we can improve.