Young Llama Thoughts
Adventurous

Christian Friendly

Easy Reading

Humerous

Youth Appropriate
Overall
4.7 Llamas










Review
So, I love Gordon Korman's books. They are super clean, funny and great for boys! And this book is an amazing sequel to Ungifted!!!!!! (Which I totally suggest you read before this book, or you may be a bit lost)
This book is about a totally normal kid and a totally genius kid going to the same school. Donovan is normal in every sense of the word, even after accidentally being enrolled in the school for gifted students, he still was pretty normal. Now he is back at his old school, but one of his super genius friends has decided to go to "normal school" too! Now Donovan is stuck protecting his super nerdy friends when he suddenly saves the day literally! But he can't tell anyone, so Noah the genius steps in and takes all the glory while leaving the real hero in the dust… Turns out even a genius can be a bit stupid…
This book was amazing!!!!! There was humor, action and friendship. I love how Gordon Korman takes real life and makes it fun and filled with adventure! This book is super clean, no mention of the class in the last book. (Look at my 'Ungifted' review) And I totally suggest this book to boys 8 and up!
There is some mention of bullying in the book, but that is the only 'con' I can think of. Some people don't like the genius kid, and tend to bully him a bit. Also Donovan's family are kind-of jerks to him, he tends to get in trouble a lot and his family kind-of treats him rudely. (They just say things like, "Why can't you do this" or "Try to be better" Just normal rude stuff)
Over all, this book is sooooo good and I totally suggest it!!!! I love Korman's books and I soooo suggest them to young boys looking for a funny and interesting read! -The Young Llama Reader.
Pros
An amazing book for boys!!!!
Super clean and super funny!!!!
Golden Llama Approval!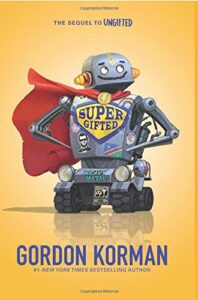 This funny and heartwarming sequel to Ungifted, which has become a word-of-mouth hit,cleverly sends up our ideas about intelligence, heroism, and popularity. 
Donovan Curtis has never been what anyone would call "gifted." But his genius friend Noah Youkilis is actually supergifted, with one of the highest IQs around. After years at the Academy for Scholastic Distinction, all Noah dreams of is the opportunity to fail if he wants to. And he's landed in the perfect place to do it—Donovan's school.
Almost immediately, Noah finds himself on the wrong side of cheerleading captain Megan Mercury and alpha jock Hash "Hashtag" Taggart. Sticking up for Noah lands Donovan in the middle of a huge feud with Hashtag. He's told to stay away from the sports star—or else.
That should be the end of it, but when a freak incident suddenly makes Donovan a hero, he can't tell anyone about it since Hashtag is involved. So Noah steps in and becomes "Superkid." Now he's gone from nerd to titan at school. And it may have gone more than a little bit to his head.
Was this post helpful?
Let us know if you liked the post. That's the only way we can improve.