Young Llama Thoughts
Adventurous

Christian Friendly

Easy Reading

Humerous

Youth Appropriate
Overall
4.3 Llamas










Review
Ok, this book is adorable! It is clean., interesting and very fun to read! I loved the plot, thought the characters were adorable, and (unlike the last book I reviewed) I loved the ending!!!!!!! This is a book I definitely suggest to kids!
This book is about a young girl who is determined to steal back her grandfathers castle. With a young animal trainer from the circus, a pickpocket who never wanted her skill, a boy determined to fly on the trapeze no matter what race he is and herself, a little girl with a cripple leg… will they steal back what is rightfully theirs?
This book was written beautifully! It was adventurous and fun while still having that twist of mystery to keep us guessing. I LOVED it! However, there is some mention of violence, people mentioning killing and a bit of racism. The boy who wishes to fly on the trapeze is black and so no one will let him. And there is a sentence that suggest someone used a horrible word towards him.
Over all, this is a very clean and interesting book I TOTALLY suggest to kids and teens looking for a good read! And I will be looking for more books by this author! -The Young Llama Reader.
Pros
A beautiful story perfect for kids!
Clean, interesting and very fun to read!
Golden Llama stamp of approval!
Cons
Some people get hurt.
Mention racism…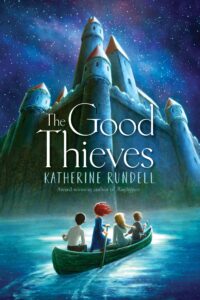 When Vita's grandfather's mansion is taken from him by a powerful real estate tycoon, Vita knows it's up to her to make things right.
With the help of a pickpocket and her new circus friends, Vita creates the plan: Break into the mansion. Steal back what's rightfully her grandfather's. Expose the real estate tycoon for the crook he truly is.
But 1920s Manhattan is ever-changing and full of secrets. It might take more than Vita's ragtag gang of misfits to outsmart the city that never sleeps.
Award-winning author Katherine Rundell has created an utterly gripping tour de-force about loyalty, trust, and the lengths to which we'll go for the ones we love.
Was this post helpful?
Let us know if you liked the post. That's the only way we can improve.