Young Llama Thoughts
Adventurous

Christian Friendly

Easy Reading

Humerous

Youth Appropriate
Overall
4.4 Llamas










Review
I have fallen in love with The Series of Unfortunate Events! It's funny, engaging, kid-friendly, filled with humor, and a great series for anyone tired of reading about happy endings! 😉
This is the 10th book in the series and in it is truly a tale of woes. From snakes to crows the Baudelaire orphans seem to have been through it all. But that was when they were together. Now Sunny has been taken by the Evil Count Olaf and Violet and Klaus are on their own on the treacherous (and very cold) Slippery Slope. Will they prevail this time? Or will it be another sad ending for the Baudelaire orphans?…
I really have enjoyed this series! It's exciting, action-filled and funny in a sarcastic way. Now, not one of these books has a happy ending per-say. So if you are looking for the Happily Ever After? This is not your series. (But I will happily read this series!) And there is some violence in the series. More like people die, disappear or get threatened. No mention of blood.
Over all, this is a series I can't wait to finish! And one I suggest to both kids and teens!!! Have a wonderful day. -The Young Llama Reader.
Pros
The 10th book in this fantastic series of unfortunate events!
Kid-friendly and very funny, (In an unfortunate kind-of way!)
Cons
Some violence and mention of "Evil people"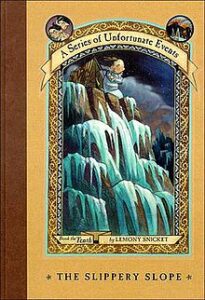 Like bad smells, uninvited weekend guests or very old eggs, there are some things that ought to be avoided.
Snicket's saga about the charming, intelligent, and grossly unlucky Baudelaire orphans continues to alarm its distressed and suspicious fans the world over. The tenth book in this outrageous publishing effort features more than the usual dose of distressing details, such as snow gnats, an organised troupe of youngsters, an evil villain with a dastardly plan, a secret headquarters and some dangerous antics you should not try at home. With the weather turning colder, this is one chilling book you would be better off without.
Was this post helpful?
Let us know if you liked the post. That's the only way we can improve.