Young Llama Thoughts
Adventurous

Christian Friendly

Easy Reading

Humerous

Youth Appropriate
Overall
4.5 Llamas










Review
Wow… What an amazing end to such a beautiful book series! It was adventurous, engaging, interesting and very Christian-friendly! I was not disappointed, though I am sad the adventure is over.
This is the 3rd and finial adventure of Millie Maven. An ordinary girl, who traveled to the magical land of FIGS. She made it to the school for gifted children, even though she had to gift, she earned her medallion, she found the golden vial but now she has to face the most challenging challenge yet… Overcoming her fear.
This book was really good. With action, adventure and faith coming together in a really amazing kids series! Though let me tell you, this last book has enough drama and suspense to keep you on the edge of your set for the rest of the day! I had no idea if this little girl was going to win or not!
And even though this book is really good!… There is violence. Kids and teachers get hurt, light mention of blood. And SPOILERS! (Some people disappear into dust. Like their skin flakes away and collapse like some horrible Marvel movie! It isn't gross or anything, I just wasn't excepting it!) END OF SPOILS! And there is some mention of Spiritual Warfare. The devil wants to overthrow the Great Teachers school and whats not.
Over all, what an amazing series! I really enjoyed reading it and totally suggest it to kids 8 and up. (Just be prepared for some violence and Spiritual stuff!) I will probably be getting more kids books by this author soon. Bye! -The Young Llama Reader.
Pros
An amazing end to a beautiful book series!
Engaging, fun and good for kids!
Christian-friendly!
Cons
Lots of violence and mention of blood…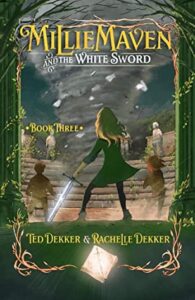 In this epic conclusion, Millie must face her greatest challenge if she is to discover the greatest truth, one that can save everything and everyone she cares about. But in order to do so, she will have to sacrifice everything. Is she strong enough to do what is being asked? Because if she can't, Millie and F.I.G.S. will be lost forever.
Was this post helpful?
Let us know if you liked the post. That's the only way we can improve.