Young Llama Thoughts
Adventurous

Christian Friendly

Easy Reading

Humerous

Youth Appropriate
Overall
4.3 Llamas










Review
Oh my fairydust… This book is BEYOND AMAZING!!!!! I loved it sooooo much, and I usually don't like historical fiction! But this time I did.
This book is about a Japanese girl who is living during World War 2. She lives on a beautiful flower farm, but when Pearl Harbor is bombed suddenly everything she knew before changes. Soon, no one trusts her family, everyone wants her family shipped to a prison, and she has to say goodbye to everything she loves so that the "real" American people will trust her people again.
This story is beautiful. And a little bit heartbreaking. Reading about this girls life just made me want to hug her and cry at the same time! There is just such courage in everything that her people went through, and I am a proud American to suggest this book to any kids!
There is mention of World War 2, bombings, and people wanting to kill the Japanese. But there isn't any actual violence besides a few people getting beat up. And of course you might cry while reading the book too. But that's just the beauty of the book!
Over all, what a beautiful book to read! I totally suggest this book to any kid interested in reading about World War 2. And I also suggest this book to kids needing to learn about our past to help brighten our future! Because, in order to improve this world, we need to know our history. Have a wonderful day! -The Young Llama Reader.
Pros
An AMAZING story!!!
Beautifully written and perfect for kids!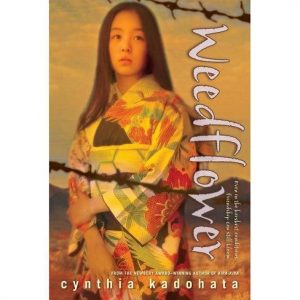 Twelve-year-old Sumiko feels her life has been made up of two parts: before Pearl Harbor and after it. The good part and the bad part. Raised on a flower farm in California, Sumiko is used to being the only Japanese girl in her class. Even when the other kids tease her, she always has had her flowers and family to go home to.
That all changes after the horrific events of Pearl Harbor. Other Americans start to suspect that all Japanese people are spies for the emperor, even if, like Sumiko, they were born in the United States! As suspicions grow, Sumiko and her family find themselves being shipped to an internment camp in one of the hottest deserts in the United States. The vivid color of her previous life is gone forever, and now dust storms regularly choke the sky and seep into every crack of the military barrack that is her new "home."
Sumiko soon discovers that the camp is on an Indian reservation and that the Japanese are as unwanted there as they'd been at home. But then she meets a young Mohave boy who might just become her first real friend…if he can ever stop being angry about the fact that the internment camp is on his tribe's land.
With searing insight and clarity, Newbery Medal-winning author Cynthia Kadohata explores an important and painful topic through the eyes of a young girl who yearns to belong. Weedflower is the story of the rewards and challenges of a friendship across the racial divide, as well as the based-on-real-life story of how the meeting of Japanese Americans and Native Americans changed the future of both.
Was this post helpful?
Let us know if you liked the post. That's the only way we can improve.