Young Llama Thoughts
Adventurous

Christian Friendly

Easy Reading

Humerous

Youth Appropriate
Overall
3.9 Llamas










Review
This series is such a great murder mystery series! With romance, action, mystery and plenty of funny parts, you will fall head over heels for these books!
This series is about Lacey Pinkerton, a women with a super smell who has moved to the small town of Port Danby to put behind her drama and open a flower shop. With 19 books of mystery, adventure and romance, Lacey with her cute crow, grumpy cat and a charming detective will surely keep you reading till the end!
Ok, I got this series for my B-Day this year and have been slowly getting the rest of the books ever since!!! They are just toooo good!!!!!!!! Very clean, with limited blood description, no curse words and funny mysteries this book is really made for girls 15 and up! (There is mention of  men holding hands under a rainbow in book 4, nothing described. Plus some kissing and mention of "worldly" dating. Aka keys to houses and hanky panky. Their words not mine, it is only mentioned in those words twice.)
Over all, what an amazing series!!!!!! I can not wait for book 19 and 20!!!!!!!!!!!!! Hope you all a great week! -The Young Llama Reader.
Pros
An amazing mystery series!!!
Perfect for girls 15 and up!
Very interesting!
Cons
Some violence and murder…
Not a kids series…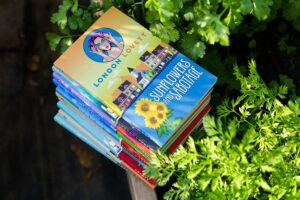 Lacey 'Pink' Pinkerton has left behind a six figure job and her reputation as the million dollar nose—a nickname her super sense of smell earned her within the perfume industry. With her pet crow Kingston and a tabby cat named Nevermore, she is settling right into her new life in the small coastal town of Port Danby. With a flower shop opening soon and a full cast of quirky neighbors and friends, her new digs are exactly what she's been looking for. Away from the hectic hustle and bustle of the city Lacey has found peace and happiness. However, her heightened sense of smell proves to be of use once again when a Port Danby neighbor turns up dead. Lacey finds herself caught up in an unexpected murder investigation alongside the handsome local detective, James Briggs. She's determined to find the killer and solve the murder mystery before any more bodies turn up.
Was this post helpful?
Let us know if you liked the post. That's the only way we can improve.