Young Llama Thoughts
Adventurous

Christian Friendly

Easy Reading

Humerous

Youth Appropriate
Overall
4.4 Llamas










Review
And here we are again, with another art book that is not a book-book. (I really can't help myself…) But come on!!!!!! It's Klaus! Only the best retelling of the story of Santa Claus EVER!!!!!!! Oh… You haven't seen it? Go watch it right now and then come back here and get this book!!!!!!!!!!!!!!!!!!! (I insist. 🙂 )
This book is the art and drawings of the 2019 Christmas retelling of the story of Santa Claus. And this book is amazing. With color pictures, landscapes and character art this book shows the whole movie in many different beautiful drawings. From the different ways they shaded people to how they designed buildings, this book is truly a masterpiece perfect for any fan of the movie!
Ok, so the first time I watch Klaus I fell in love. And then a few months after that I saw that they had this art book and lost my reindeer!!!! However… It was out of stock or cost something like $85, and I'm a penny pincher so…. no. But then they reprinted the books and I got one for Christmas!!!!!!!!!!!!!!!!!!! And now I am sharing this beauty with all of you.
This book is amazing! From the paintings, to the drawings, to the character devolment it is perfect! And very clean and good for any art lover. I really don't know what could be wrong with it besides the fact that it's not a chapter book. Just an amzing art book that I think everyone needs.
Over all, what an amazing book! I totally suggest it if you are into "The Art Of-" books!!! And I hope you all have a snowy day. -The Young Llama Reader.
Pros
Another amazing book of art!!!!!
The concept art of my fav Christmas movie Klaus!!!!!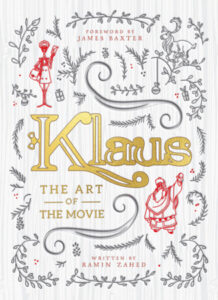 A stunning book exploring the art of Sergio Pablos' animated Christmas original, Klaus.
When Jesper (Jason Schwartzman) distinguishes himself as the postal academy's worst student, he is stationed on a frozen island above the Arctic Circle, where the feuding locals hardly exchange words let alone letters. Jesper is about to give up when he finds an ally in local teacher Alva (Rashida Jones), and discovers Klaus (Oscar® winner J.K. Simmons), a mysterious carpenter who lives alone in a cabin full of handmade toys. These unlikely friendships return laughter to Smeerensburg, forging a new legacy of generous neighbors, magical lore and stockings hung by the chimney with care. An animated holiday comedy directed by Despicable Me co-creator Sergio Pablos, KLAUS co-stars Joan Cusack, Will Sasso and Norm Macdonald.
Klaus: The Art of the Movie is a stunning coffee table hardback exploring the art of Sergio Pablos' hand-drawn animated original Christmas film. Showcasing the full animation process, including an innovative new lighting and shadowing technique, this book features concept art, pitch documents, character turnarounds, key art, final artwork, exclusive sketches, and interviews with the team behind this heartwarming film.
Was this post helpful?
Let us know if you liked the post. That's the only way we can improve.