Young Llama Thoughts
Adventurous

Christian Friendly

Easy Reading

Humerous

Youth Appropriate
Overall
4.1 Llamas










Review
I really loved the 1st book in this new series, so of course I went and got the 2nd one!!!! But it was a bit different and there was one LGBT reference… However it is still good, but I did kick the book a little bit after reading the LGBT thing…
The book is about Tilly after she found her mom, and her getting used to being a book-wanderer! But stange things are happening now and everyone is still looking for a particular villain who got away! Can they find him before the Under-library stops book-wandering forever?
The book was awesome and I was totally hooked…until there was a character who said she liked to have romantic relationships with both famous hero's and heroin's… It was just that small sentence, but it ruined the book for me and I really didn't know if I wanted to finish it. (I will say this again and again, I do not dislike people who are LGBT. But I do not want to read about it in a kids book! There is no purpose for it to be in there and it gives nothing to the book; only takes away from it…)
There was also some violence in the book as well. Like weird magical violence? Book characters would explode into ink, and some people are giving themselves tattoos to make themselves younger? And one character's book gets burned and he dies with ink like stuff coming out of his eyes and ears… (Creepy!) So…yeah. A bit more violent than the 1st book.
Over all, I still think this is a very good book and I am suggesting it. But as always, ask your parents first. I hope you all have a great day! -The Young Llama Reader.
Pros
A very good book that I would suggest to kids and teens!
A magical adventure that keeps you turning the pages unto the end!
Cons
LGBT
And a bit of violence and weird stuff…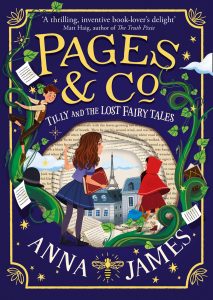 After solving the mystery of Tilly's mother's disappearance, the bookwandering community is at risk. An extreme group of Librarians have taken over the British Underlibrary and they want to restrict bookwandering.
Tilly and Oskar believe that The Archivists are the key to restoring balance – but nobody has seen them for thousands of years, and most people think they never really existed anyway. Is a journey to the French Underlibrary and a peculiar book of fairytales, the key to discovering their whereabouts?
But wandering into fairytales is dangerous and unpredictable, and the characters aren't as they seem. Soon, Tilly and Oskar realise that villains don't just live inside the pages of books. Sometimes, you don't get to live happily ever after…
Was this post helpful?
Let us know if you liked the post. That's the only way we can improve.