Young Llama Thoughts
Adventurous

Christian Friendly

Easy Reading

Humerous

Youth Appropriate
Overall
4.7 Llamas










Review
Book 1, awesome. Book 2 Awesome! Book 3? AWESOME!!!! I love this series, it is such a great book series for kids and teens! And it is completely clean!!!!!!!!!!!!!! I haven't gotten to enjoy a series in such a long time. There is always something wrong with the book or whatever. But not this book!!!!!!!!!!
This is the 3rd and final book in the Young Captain Nemo series, and it is amazing. In this book, the crew is looking for the long lost crew of the Nautilus. When they hear of strange recuses happening, weird sea-serpents attacking and strange ship sightings. They start to think they found them, but they are not what Gabriel thought they would be…
LOVE! The book was sooooo good! Packed full of mystery, excitement and action!!!! From chapter to chapter I was sucked into the story! I really don't have any cons. There are sea serpents, (which is awesome!) and some underwater attacks? But those just add to the story not take away from it!!!!!
Over all, AHHHHHHHHH!!!!!! I am soooooo beyond happy that I have a new completely clean series to suggest to kids and teens!!!! 8 and up. Awesome and clean! Read and now and smile! -The Young Llama Reader.
Pros
AWESOMENESS!!!!
An fantastic book for boys!
Adventure, action, underwater awesomeness!!!!
Cons
Sea serpents and awesome underwater fight scenes?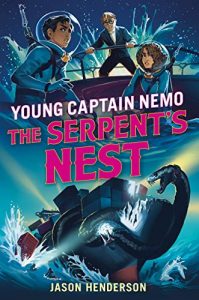 In Jason Henderson's The Serpent's Nest, the third and final installment of the action-packed middle grade series Young Captain Nemo, a twelve-year-old descendant of Jules Verne's famous antihero must face down giant sea serpents and solve a centuries old mystery, armed only with his wits, his friends, and his Nemotech submarine.
Gabriel Nemo has never been your normal, everyday twelve-year-old. As a descendant of the famous Captain Nemo, he's determined to use his Nemotech legacy for good. He and his best friends, Peter and Misty, spend their days studying at the elite Nemo Institute and their spare time trying to solve the mystery of what happened to the original Captain Nemo and his crew.
An engraved anchor pin from the abandoned Nautilus leads the trio to Cardiff Bay in Wales, where they find signs of mysterious underwater rescues. But before long, their search is interrupted when they cross paths with a new kind of sea serpent. Can Gabriel and his friends solve the mystery of the Serpent's Nest before things turn deadly?
Was this post helpful?
Let us know if you liked the post. That's the only way we can improve.