Young Llama Thoughts
Adventurous

Christian Friendly

Easy Reading

Humerous

Youth Appropriate
Overall
4 Llamas










Review
So… I REALLY loved this book! It has drama, interesting characters, and it's about Space!!! However, this book also has some sad parts. Broken family's, loved ones being hurt, and the SS Challenger disaster. So it's more of a bitter-sweet kind-of book. But it is still soooooooo good!
This book is about 3 siblings, each different, and each feeling like they don't belong in their family. Cash, the eldest, stinks at basketball, broke his arm, and is failing 7th grade for the 2nd time now. Fitch, has anger issues he doesn't understand, a classmate who won't leave him alone, and an arcade game he just wants to play all day everyday. And Bird, the smart one, who's invisible, and wishes with all her heart that she one day could go to space! When all 3 of them hear about the Challenger's up coming launch at school, they each have different emotions about it. But it might be the one thing that can bring them together.
This book was amazing! It was clean, funny and very interesting to read. There is a lot of space facts and interesting history of that time period. However, there is also a broken family. Lots of yelling and curse words. (But the curse words literally look like this… [Expletive] That is it. No actual spellings, just the idea of cursing.) And there is also some sad parts. Kids being mean to other kids. Name calling, and slight bulling. Plus the SS Challenger.
Over all, I have not read such a clean, interesting, fiction, history book in such a long time! I mean this book is awesome!!!!!!! Totally one I suggest to girls and boys 8 and up! And one I can not wait to read again soon!!!!! -The Young Llama Reader.
Pros
An amazing book for kids 8 and up!!!
Clean, interesting and fun to read!
Cons
Curse words…
Some sad moments…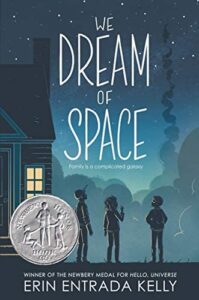 Newbery Medalist and New York Times–bestselling author Erin Entrada Kelly transports readers to 1986 and introduces them to the unforgettable Cash, Fitch, and Bird Nelson Thomas in this pitch-perfect middle grade novel about family, friendship, science, and exploration. This acclaimed Newbery Honor Book is a great choice for readers of Kate DiCamillo, Rita Williams-Garcia, and Rebecca Stead.
Cash, Fitch, and Bird Nelson Thomas are three siblings in seventh grade together in Park, Delaware. In 1986, as the country waits expectantly for the launch of the space shuttle Challenger, they each struggle with their own personal anxieties. Cash, who loves basketball but has a newly broken wrist, is in danger of failing seventh grade for the second time. Fitch spends every afternoon playing Major Havoc at the arcade on Main and wrestles with an explosive temper that he doesn't understand. And Bird, his twelve-year-old twin, dreams of being NASA's first female shuttle commander, but feels like she's disappearing.
The Nelson Thomas children exist in their own orbits, circling a tense and unpredictable household, with little in common except an enthusiastic science teacher named Ms. Salonga. As the launch of the Challenger approaches, Ms. Salonga gives her students a project—they are separated into spacecraft crews and must create and complete a mission. When the fated day finally arrives, it changes all of their lives and brings them together in unexpected ways.
Told in three alternating points of view, We Dream of Space is an unforgettable and thematically rich novel for middle grade readers.
Was this post helpful?
Let us know if you liked the post. That's the only way we can improve.