Young Llama Thoughts
Adventurous

Christian Friendly

Easy Reading

Humerous

Youth Appropriate
Overall
4.4 Llamas










Summary
This book was a wonderful story to read. It was adventurous, some of it was funny, and it was heartwarming.
The book begins with a young woman being sent away from her family and home, warned to never come back. She goes to the Twethewey family and becomes a governess for several years until she and the children are forced to move with a relative in Penwythe Hall. With her home town close by, her past begins to haunt her, and she is the only one who knows the mystery of her family.
I loved reading this book. I couldn't put it down. Delia and the children, all the characters were interesting and exciting to read about. I don't have any cons for this book other than it's not a children's story. This book along with the other books in the series is not for children or young teens. Though it is very clean, these stories are meant for young adults. This book is a Historical Romance and does have mention of violence, but nothing inappropriate.
Overall, this is a wonderful, Christian series for young adults. It is not meant for children. It could be a book for teens, but I would say 17 and up. But hey, if you're a young adult looking for a great Christian series that is clean, I highly recommend The Governess of Penwythe Hall and the the two other books in the series. (I can't wait to read the third one.) Hope you liked my review.
-The Tiger Reader
Pros
Heartwarming
Very Clean
Adventurous
Mystery
Great Characters
Cons
Not a children's book; it is meant for young adults.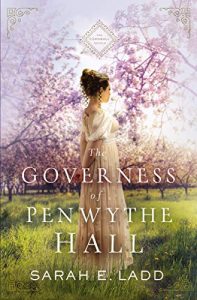 Rich with family secrets, lingering danger, and the captivating allure of new love, this Regency romance introduces us to the Twethewey family and their search for peace, justice, and love on the Cornish coast.
Cornwall, England, 1811—Blamed for her husband's death, Cordelia Greythorne fled Cornwall and accepted a governess position to begin a new life. Years later her employer's unexpected death and his last request for her to watch over his five children force her to reevaluate. She can't abandon the children now that they've lost both parents, but their new guardian lives at the timeworn Penwythe Hall . . . back on the Cornish coast she's tried desperately to forget.
Jac Twethewey is determined to revive Penwythe Hall's once-flourishing apple orchards, and he'll stop at nothing to see his struggling estate profitable again. He hasn't heard from his brother in years, so when his nieces, nephews, and their governess arrive unannounced, he battles both grief at his brother's death and bewilderment over this sudden responsibility. Jac's priorities shift as the children take up residence in the ancient halls, but their secretive governess—and the mystery shrouding her past—proves to be a disruption to his carefully laid plans.
Was this post helpful?
Let us know if you liked the post. That's the only way we can improve.