Young Llama Thoughts
Adventurous

Christian Friendly

Easy Reading

Humerous

Youth Appropriate
Overall
4.4 Llamas










Review
So I loved the 1st book in this series. So of course I got the 2nd one, and it was just as good!!! Filled with action, magical adventures, and friendship all wrote in a fantastic read!
This book is about a boy finding his place in his new magic filled world without his dragon friend by his side. A dragon trying to figure out how to lead his pride. A brownie hoping that their adventures are all over. A Pegasus and his 3 eggs on the edge of extinction. And a griffin waiting for the chance to change his world. With adventure, action and magic at ever turn, will the team be able to save the Pegasus eggs?
This book was amazing! I loved the first one and this is just as good if not better!!! There is adventure, action and awesomeness with every chapter. And this series is sooooo clean. I totally think kids 8 and up can read this. The magic is very clean, mostly Narnia-like with no creepy voo-doo. There are some magical creatures in the book that hurt or want to kill each other but nothing is graphically described.
There is some fighting and violence. Griffins and dragons fight. There is a dangerous jungle filled with danger. And some creatures die, but nothing is described in detail. They just die, get eaten and stuff like that. The violence is very minimal and pretty clean for kids. (Yet again think Narnia-like. Mentioned but not described)
Over all, this series is sooooo good and I totally suggest this book! I love Cornelia Funke's books and can't wait to read the 3rd one. Later!!! -The Young Llama Reader.
Pros
An amazing book for boys!
Very clean and fun to read!
Adventure and action!!!
Cons
Mention of violence and fighting…
Some weird magical creatures…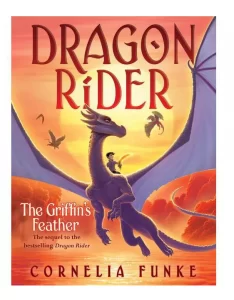 The sequel to the #1 New York Times Bestseller!It's now been two years since Ben and Firedrake defeated Nettlebrand and rescued the silver dragons. Both boy and dragon have finally found homes, but they must live hundreds of miles apart and can only see each other every once in a while.
During one such visit, news reaches Ben, the Greenblooms, and their friends that the last Pegasus in the world has been discovered. The legendary horse has three unhatched eggs with him, but the only way they'll ever hatch — and continue the survival of this incredible magical species — is to place them under a griffin's feather. But griffins are the most dangerous creatures in the world, and their mortal enemies are dragons…
Ben has vowed not to tell Firedrake about his quest, to protect him. But as he and the Greenbloom team set off for a remote island where the terrible griffins are rumored to live, he may just need the help of his best friend and dragon…
Was this post helpful?
Let us know if you liked the post. That's the only way we can improve.