Young Llama Thoughts
Adventurous

Christian Friendly

Easy Reading

Humerous

Youth Appropriate
Overall
4.5 Llamas










Review
This is a book sent to me by Baker Book House, for my honest review. And honestly…I LOVE IT!!! It is so sweet and funny, and a great book for teens girls to read!!!! (Plus it's all about desserts!!!! Yum!)
The book is about this girl who is all about anything french and she's looking for that perfect romance her parents had. And this guy, the complete opposite of romantic, who has to do an article on the bakery she works at. Neither one of them can really get along with each other; but when hidden secrets become known and the bakery's in trouble…Maybe love will be the key.
I LOVE this book, the cute romance, amazing plot line, and DESSERTS!!!!! (I'm hungry already!!!!) I don't have any complaints about this book. It was the perfect romantic read! There is some mention of "passionate kissing" but that's it.
Over all, a must read for any girl looking for a romantic read! I hope you all have a great day!!!!! -The Young Llama Reader.
Pros
A adorable romance that is sooooo interesting to read!!!!
Very good for teen girls!
Cons
A lot of "passionate kissing" but nothing else.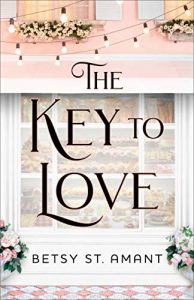 The only thing Bri Duval loves more than baking petit fours is romance. So much so, she's created her own version of the famous Parisian lovelock wall at her bakery in Story, Kansas. She never expects it to go viral–or for Trek Magazine to send travel writer Gerard Fortier to feature the bakery. He's definitely handsome, but Bri has been holding out for a love story like the one her parents had, and that certainly will not include the love-scorned-and-therefore-love-scorning Gerard.
Just when it seems Bri's bakery is poised for unprecedented success, a series of events threaten not just her business but the pedestal she's kept her parents on all these years. Maybe Gerard is right about romance. Or maybe Bri's recipe just needs to be tweaked.
Novelist Betsy St. Amant invites you to experience this sweet story of how love doesn't always look the way we expect–and maybe that's a good thing.
Was this post helpful?
Let us know if you liked the post. That's the only way we can improve.