Young Llama Thoughts
Adventurous

Christian Friendly

Easy Reading

Humerous

Youth Appropriate
Overall
4.1 Llamas










Summary
This book has become one of my favorites. I loved reading about this family and their dangerous adventure. This historical fiction takes you on a crazy ride full of betrayal, excitement, and even some romance.
The story is about a Delia and her seven brothers. The brothers are accused of murder and treason. When they are sent to the Tower of London, Delia follows, set on saving her brothers' lives. But the only way she can save them is to trust the man who put them there in the first place.
Court of Swans was an amazing story that I can read over and over. (And I have done that. I've lost count how many times though.) This book is definitely one of Dickerson's best, and more are on the way! However, this story does have some touchy subjects. There is mention of death, murder, and violence. I won't give away the details, but one of the brothers gets hurt pretty tragically. Though it's not described that much, there is mention of blood in multiple chapters. Another thing that you should know is an adult topic that comes up in one of the chapters. There is a scene where Delia is trapped in a room and man tries to attack her. Though nothing happens, I don't recommend that kids or young teens read this book. I would say 15 and up.
Overall, this story is one of my favorites and I can't wait to learn more about this family in future books. I totally recommend this series to older teens and young adults. It has a wonderful story!
I hope you liked my review. I hope to do more of them soon.
– The Tiger Reader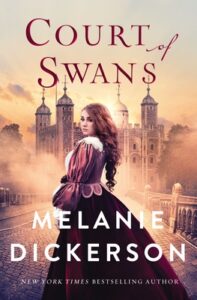 Where there is wealth and power, there's always someone willing to do anything to take it.
England, 1381: Delia's idyllic life as daughter of an earl is shattered when her father dies and his wife accuses Delia's seven brothers of treason and murder. The youngest is only ten years old, but this doesn't stop the guards from hauling them off to the Tower of London. There they await a grim fate, as child-king Richard II is executing anyone who poses a threat to his throne. Delia is their only hope for pardon and freedom.
Sir Geoffrey did not expect his first assignment as captain of the guard to be the arrest of boys so young. He dutifully imprisons the brothers, but he can't ignore the sense, rooted in personal experience, that injustice and treachery are at work.
Determined to rescue her brothers, Delia secures a position as a seamstress for the queen. Her quest is all but impossible as the executions continue. Sir Geoffrey offers to be her ally, but should she trust him in a court where everyone has an agenda?
From New York Times bestselling author Melanie Dickerson comes a tender retelling of "The Wild Swans," where the virtues of loyalty and love face a harrowing showdown with power and fear.
Was this post helpful?
Let us know if you liked the post. That's the only way we can improve.