Young Llama Thoughts
Adventurous

Christian Friendly

Easy Reading

Humerous

Youth Appropriate
Overall
3.8 Llamas










Review
This book was sent to me by Baker Book House for my super awesome review. So here it is!
This book is about a former Delta Operative and a young women who might just be the key to saving the world. But both might have to put aside their problems to trust each other enough to survive. And maybe find love along the way…
I read the 2nd book in this series, (and loved it) and this one was just as good. With plenty of plot twists, adventures and romance to keep you reading into the night! (Plus the awesome action scenes!!!!!!! I do love it when people have to fight for their lives while falling in love. "Ahh romance!")
Now, this series is about 3 brothers who are in the Navy, Air Force and the Army so except some violence. People get shot, poisoned, crushed, beaten. Ribs get cracked, hearts get broken, and there is mention of bombs and death. (Not to mention the killer diseases that are threatening the world…) So… NOT A KIDS BOOK! I wouldn't really hand it to a teen either… 18 and up I guess?
Over all, what an amazing end to this series!!!! These books are ones that I very much suggest and totally will read again very soon!!!!!!!!!!!!!!!!!!!!!!! Hope you all have a lovely fall day. -The Young Llama Reader.
Pros
LOVE!!!!
Really good for adventure lovers!!!!
Cons
Lots of violence and death…
Not a kids book…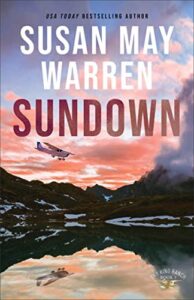 Former Delta Operative Colt Kingston knows when someone is lying. He may not know the truth, but he sure doesn't trust Tae, the woman who is caring for his ailing father at Sky King Ranch. Behind those beautiful blue eyes, he can tell there is a troubled–and smart–woman.
A few of her stories prove true–he's found the crashed plane and the dead body inside. Still, her story of survival seems too incredible to believe . . . until the thugs she claims to be hunting her show up and threaten Sky King Ranch. Now Tae must disappear, along with her secrets.
But Colt's not about to let her go it alone. And when they discover that her secrets include the antidote to a plague that threatens the world, it'll take all three Kingston brothers to save the country they've vowed to protect.
Susan May Warren brings her Sky King Ranch series to a climactic close with this high-stakes race against the clock.
Was this post helpful?
Let us know if you liked the post. That's the only way we can improve.