Young Llama Thoughts
Adventurous

Christian Friendly

Easy Reading

Humerous

Youth Appropriate
Overall
4.6 Llamas










Review
Wow… That is about all I can get out. Wow! What an amazing book about so many different amazing women!!! The art was gorgeous! The stories were beautifully written! And the entire book just makes you want to cry happy and sad tears!!!!!!!!!
This book is about 50 different amazing women of God! Each story is completely different, but they all point right back at our Lord and Savior! Every story is a page long with a beautiful illustration to complete it! They are clean, kid-friendly, Christian themed and written with such grace and elegance that it made an 18 year old sit down and read it for an hour. There is some mention of war, death, and painful backstories, but it is completely clean for a 5 year old to read.
Over all, this is a book that I will LOVE reading to little girls! And it is one I most definitely suggest!!!!! Have a great day, and buy this book soon!!!!!! -The Young Llama Reader.
Pros
An amazing picture book perfect for little girls!
50 beautiful stories about 50 Christian women!
Cons
Some mention of painful and violent subjects.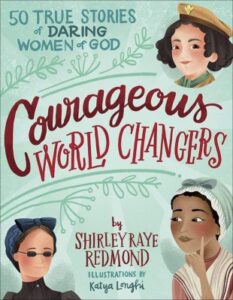 Discover some amazingly courageous women in history with Courageous World Changers by Shirley Raye Redmond, and illustrated by Katya Longhi. These women come from a variety of backgrounds, eras, and ethnicities, but each one has answered the Lord's call on their life. Includes biographies on: Corrie ten Boom, Laurie Hernandez, Florence Nightingale, Madeline L'Engle, Mother Teresa, and 45 other more!
Was this post helpful?
Let us know if you liked the post. That's the only way we can improve.