Young Llama Thoughts
Adventurous

Christian Friendly

Easy Reading

Humerous

Youth Appropriate
Overall
4.6 Llamas










Review
What a beautiful book!!!!!!!!! I ADORE this book sooooooo much! It is about family, friends and overcoming loss! And it is such a good book for kids!!!!!!!!!!!!!!!! (I cried quite a bit while reading this book… But it was worth it!)
The book is about a girl who's family moved away from her home hoping to start fresh after her little bother's death. But Zinnia doesn't know what to do when her new life is not quite going how she thought. Then she sees her neighbors in superhero costumes and suddenly it's gets a bit more interesting…
Now, I am kind of in love with the idea of superheroes! But I can never find a good clean superhero book. But now I HAVE!!!! Though these supers don't have any powers, they are still saving the world one good deed at a time!
This book was just amazing! It was clean, interesting and soooooooo amazing I could cry all over again! There is nothing inappropriate in the book. But there are some sad parts; because her little brother is dead there are a few sad scenes where I was crying all over the place!!!!!!!!!! (There is mention of cancer…)
Over all, a book I most definitely suggest to kids 8 and up. If you are looking for a book to inspire and excite that young super fan! This is it. (But they don't have any powers… sorry!) -The Young Llama Reader.
Pros
A beautiful book about the real life heroes of your everyday life!
Amazing and written beautifully!!!!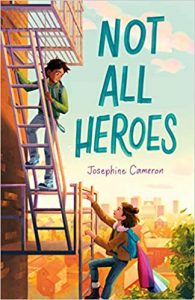 Even though her family moved across the country for a "fresh start" after her little brother's death, eleven-year-old Zinnia Helinski still feels like she's stuck waiting for her new life to begin. Then she spots her new neighbor, Kris, climbing down the fire escape of their apartment building. He's wearing a black eye mask! And Spandex leggings. . . . And a blue body suit?
Soon Zinnia finds herself in a secret club for kids who want to be heroes. The Reality Shifters don't have superpowers, but they do have the power to make positive change in their neighborhoods. And a change is just what Zinnia is looking for!
At first, she feels invincible. Zinnia finally has friends and is on the kind of real-life adventures her little brother, Wally, would have loved. But when her teammates lose sight of their goals, Zinnia must find the balance between bravery and recklessness, and learn to be a hero without her cape.
Was this post helpful?
Let us know if you liked the post. That's the only way we can improve.