Young Llama Thoughts
Adventurous

Christian Friendly

Easy Reading

Humerous

Youth Appropriate
Overall
3.7 Llamas










Review
Yet another book on my to-be-read-shelf that was better than expected! (I seriously NEED to look at that shelf… So many good reads just waiting for me to have time!!!!)
This book is about 5 different kids, with 5 different lives, working together to overcome the statewide assessment tests. Each kid has a different story, a future lawyer who wants nothing to do with anyone, an artist who hates reading and wishes to play football, a gymnast who hates her sport and just wants freedom, a bully who is tired of being bullied, and a boy who is just happy to be with his "friends".
This book was very good. I loved the teamwork, humor and friendship in it! It is super clean, although there is lots of bathroom talk. (A kid pees on the slide, mention of underwear and such) Nothing inappropriate, just your normal kid talk.The book is very clean and would be great for kids 10 and up!
Now there is lots of talk of bullies in the book. Mention of being beat up, hit, made fun of and such. (SPOILER! A kid gets dirty underwear in his face and tied up by bullies in the book) I don't think this is a problem, kids need to know about bullies so I still suggest it. (But it is still sad…)
Over all, this book is very good for kids! I really like how it talks about the consequences of cheating but the rewards of friendship, and I think both girls and boys will enjoy it. Have a great day!!!! -The Young Llama Reader.
Pros
Very funny!
Interesting and inspiring for kids!
Cons
Lots of bullies…
Mention of bathroom talk…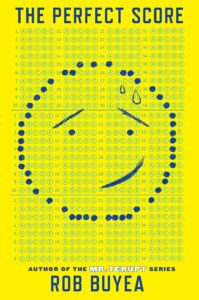 No one likes or wants to take the statewide assessment tests. Not the students in Mrs. Woods's sixth-grade class. Not even Mrs. Woods. It's not as if the kids don't already have things to worry about. . . .
Under pressure to be the top gymnast her mother expects her to be, RANDI starts to wonder what her destiny truly holds. Football-crazy GAVIN has always struggled with reading and feels as dumb as his high school–dropout father. TREVOR acts tough and mean, but as much as he hates school, he hates being home even more. SCOTT's got a big brain and an even bigger heart, especially when it comes to his grandfather, but his good intentions always backfire in spectacular ways. NATALIE, know-it-all and aspiring lawyer, loves to follow the rules—only this year, she's about to break them all.
The whole school is in a frenzy with test time approaching—kids, teachers, the administration. Everyone is anxious. When one of the kids has a big idea for acing the tests, they're all in. But things get ugly before they get better, and in the end, the real meaning of the perfect score surprises them all.
Was this post helpful?
Let us know if you liked the post. That's the only way we can improve.