Young Llama Thoughts
Adventurous

Christian Friendly

Easy Reading

Humerous

Youth Appropriate
Overall
4.5 Llamas










Review
This book is AMAZING! There is action, adventure and danger at every page turn! The story is a complete mystery until you read every last word! And the way the authors wrote the book is a beautiful message of God's love overcoming anything the devil could throw. Hands down, an amazing book!
This book is about a young girl named Millie Maven. Who according to her aunt, is a worthless, horrible girl with no purpose and no one to love her. But on her 12th birthday she follows a crazy lady to a pool of water, she accidentally transports herself into the land of FIGS. Finding out that she has been chosen by the Great Teacher to join this school of gifted students!… but what if she isn't gifted after all? What if her aunt was right?…
Wow. I loved this book! The plot was awesome, the characters awesome, the adventure? AWESOME! Seriously, this book was actually soooo good that I was giving it my Young Llama golden seal of approval, "The Golden Llama"! (Which means nothing except it's soooo good I think you should read it to, and that it is clean for any kid to read besides the violence!)
About that little detail, this is a violent book. I would put it a bit under Narnia movie violence, but there is some mention of blood. These kids go on some crazy adventures! There are wild animals wanting to eat them, man "biting" plants with razor sharp teeth, kids fall, get hurt and bleed. However, I do think a young girl could read this book and be fine. (As long as she isn't too queasy at the mention of some blood) There is also a lot of mention of fear in this book. Millie Maven feels worthless and doesn't think she is lovable (which is sooooo sad to read!) and she is afraid constantly. However, the message if the book overcomes the fear! This book really shows young girls to not be afraid! It shows them to be brave and to overcome their fears and to step into God's love… ("Sniff! What a beautiful message!!!!!!!!!")
Over all, a MUST READ! I am in LOVE with this series, (even though it's a bit shorter than what I like) and I totally suggest it! I will be getting the authors other series meant for boys soon! -The Young Llama Reader.
Pros
An AMAZING Christian allegory book!
Perfect for girls 8 and up!
An amazing adventure!!!
Cons
Lots of violence and mention of blood.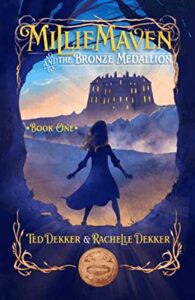 Millie Maven, a fearful orphan girl who lives with her strict, evil aunt is trapped in a life of cruel punishment without any friends. So on the night of her twelfth birthday, when old Aggie of the woods invites her to take a journey that can change her life forever, Millie knows she has to go. Unsure but desperate, Millie embarks on a great adventure that takes her to the distant, mysterious world of FIGS, the FarPointe Institute for Gifted Students, where she might discover her true value through gifts that defy belief.
Was this post helpful?
Let us know if you liked the post. That's the only way we can improve.