Young Llama Thoughts
Adventurous

Christian Friendly

Easy Reading

Humerous

Youth Appropriate
Overall
4.7 Llamas










Review
Ok ok, I LOVE this series. I had read Flunked when I was maybe 12 and loved it!!!!!!! It was the magical adventure I needed when I finished E. D. Bakers Frog Princess series! (And boy did I love that series too. Hmm… I might just post a few series together for awhile….)
Anyways, this series is about Gilly. A completely normal thief who gets sent to the Fairy Tale Reform School to figure out how to be a better person! The school, which is run by the formal villains in fairy-tales, has quite a few adventures/problems for Gilly to face. With the help of her new friends, and very good thieving skills, Gilly will save the day…hopefully…
I ADORE this series. It is sooooooooo kid-friendly, funny, interesting and perfect for that fairy-tale lover. There is magic. But may I just say, as a Christian, it is very clean. I REFUSE to read anything that openly attacks my religion, but the clean fairy tales are completely safe to read. I know some Christians panic at the mention of the word Pixiedust, but it's all fiction… The books I am suggesting to you are "fairy" clean, and very good for kids. There is no witchcraft or voodoo. Mostly magical spells to make food float and curses that turn hair various shades of purple. Yes, there are witches, fairies, ogres and goblins. Plus a very grumpy dwarf or 2, and those are all very clean for kids.
Over all, I totally suggest this series to kids and teens!!!! If you are looking for that magical adventure that leads you too a school of former villains? Look no more! I have found the perfect one. 😉 Happy reading!!!! -The Young Llama Reader.
Pros
AN AMAZING SERIES!!!
Perfect for girls!
Fairy tales, adventure, and awesomeness!!!!
Cons
Lots of magical adventures, spells and curses. (Not witchcraft or voodoo just your normal friendly magic… If you could call magic friendly…)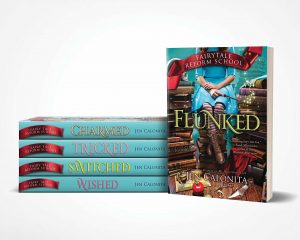 Collect the Fairy Tale Reform School series from award-winning author Jen Calonita, now in paperback! Full of fractured fairy tales, strong rebel girls and all sorts of magic and danger, this series is perfect for middle schoolers, voracious readers, tweens, and anyone who loves a good fairy tale retelling. What happens to the villains after happily ever after? 12 year old Gilly isn't so sure that she needs reforming for the (former) villains in Enchantasia… Meet Gilly Cobbler. She wouldn't call herself wicked, exactly…but when you have five little brothers and sisters and live in a run-down boot, you have to get creative to make ends meet. Gilly's a pretty good thief (if she does say so herself). Until she gets caught. Gilly's sentenced to three months at Fairy Tale Reform School―where all of the teachers are former (super-scary) villains like the Big Bad Wolf, the Evil Queen, and Cinderella's Wicked Stepmother. Harsh. But when she meets fellow students Jax and Kayla, she learns there's more to this school than its heroic mission. There's a battle brewing and Gilly has to wonder just how good these bad guys are.
Was this post helpful?
Let us know if you liked the post. That's the only way we can improve.