Young Llama Thoughts
Adventurous

Christian Friendly

Easy Reading

Humerous

Youth Appropriate
Overall
4.5 Llamas










Review
Fun fact about me, as much as I love horses I really don't like riding them. But I do absolutely love reading about them!!! And this book did not disappoint! (In fact I already ordered books 2-5 from the library! I seriously love this series!)
This book is about Sam, a young girl who can't wait to get back into the saddle after 2 years of recovery of a head injury when her horse threw her. Now back at the ranch she loves, Sam realizes not only is she going to have to work twice as hard to prove herself to her family, but her precious horse that threw her might just be the Phantom Stallion that is running wild with his own herd…
This book was so good! I loved the adventure, action and suspense! There was plenty of the wild-wild west to satisfy any western lover but all set in the modern age. And I love how the book goes into detail on how to properly train a horse and take care of it. This is a great book for any horse lover!
Now there is some mention of violence in the book. There are some people who don't treat horses properly and get them injured. Mention of blood, spurs hurting horses, and horses hurting themselves locked in pens. It isn't super detailed, but is mentioned and it is a bit sad. (No one should ever mistreat one of God's beautiful creatures. And I think this book describes that injustice very well)
Over all, this book is amazing and one that I totally suggest!!!! I think kids 8 and up would just love it! And I hope you all have a great week! -The Young Llama Reader.
Pros
A very good book for kids 8 and up!
Adventure, action and awesomeness!!!
A great series of 24 books!
Cons
Some violence and mention of blood…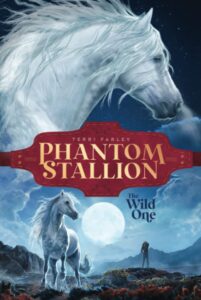 The beloved first book in the middle grade Phantom Stallion series about a girl, her horse, and the beauty of the American West returns with a brand-new, stunning cover and bonus material! Perfect for fans of Canterwood Crest and classic horse stories like Black Beauty and My Friend Flicka.
When thirteen-year-old Samantha returns home to her family's cattle ranch in Nevada, she's nervous. She moved away two years ago to recover from a bad fall off her beloved mustang, Blackie, and she's still not sure she can get back in the saddle. She's having trouble bonding with her new horse, Ace, the other ranchers treat her like the boss's spoiled daughter, and Blackie has been missing since the day of Sam's fateful accident.
But that's just the beginning. On a moonlit night, a mustang comes to Sam. Is it Blackie grown up and gone wild—or the legendary phantom stallion? When Sam suddenly finds the fate of the horse resting in her hands, she has to be a real cowgirl, ready or not.
Was this post helpful?
Let us know if you liked the post. That's the only way we can improve.