Young Llama Thoughts
Adventurous

Christian Friendly

Easy Reading

Humerous

Youth Appropriate
Overall
4 Llamas










Review
So I think we all know how I tend to get obsessed over books. (Keeper of the Lost Cities, An Outlaw's Redemption, Inkheart to name a few.) Well this author reached out to me and sent me her book to review and I totally LOVE IT!!!!!!!!
This book is about Misty Raven, a girl with no family, no home but she is on a mission to renovate old houses. When she starts fixing up an old house in a small town the last thing she expects to find is a body… But now she is too far in to leave and starts looking into a past that someone doesn't want her to discover. Can she solve the murder before it's too late?…
This book was sooooooo good! The writing was well done, I loved the characters and romance! And of course I loved the mystery!!!! (Seriously this book is perfect for fans of Enola Holmes and Port Danby books) This is a great book for girls 12 and up. It is very clean, except for the murders, violence and dead people… So, if you don't mind a few twists and turns this is a great book for you!!!
Now there is some violence. (Obviously) There is mention of blood, people dead, some murders, a skeleton and suicide. But nothing is grossly described, just mentioned like, "There was blood". That's it. (Told you! SUPER clean. Girls 12 and up could read this no problem. There is no adult stuff in it, just murder and awesomeness!!!!!)
Over all, I need the rest of the series now!!!! I am totally buying Ms. Elaine's books. (She has some historical fiction ones too!!!!!) And I suggest you do the same. Have a sunny, book-filled day!!!! -The Young Llama Reader.
Pros
An amazing mystery!!!!
Great for girls 12 and up!
Adventure, romance and awesomeness!!!
Cons
Violence, murder and mention of suicide…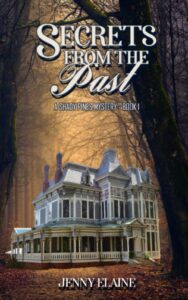 A mysterious young woman arrives in the small town of Shady Pines to renovate a beautiful old bed and breakfast, but is that her only reason for coming?
Misty Raven is on a mission, but she soon gets distracted when a body is discovered buried in the backyard of the bed and breakfast she just purchased. Could it be related to a murder that happened in the house fifteen years ago? While Misty searches for answers, someone doesn't want the truth uncovered and tries to stop her. When two more people are murdered, Misty realizes that she'll be next if she doesn't keep one step ahead of the killer. Can she solve the mystery before it's too late?
Was this post helpful?
Let us know if you liked the post. That's the only way we can improve.