Young Llama Thoughts
Adventurous

Christian Friendly

Easy Reading

Humerous

Youth Appropriate
Overall
4.2 Llamas










Review
This was a book sent to me by Baker Book House and I very much enjoyed it! It was interesting, funny, clean and a extremely good book for young women. (I think any young lady who loves a good Historical Fiction will adore this book!)
The book is about a women who was wrongly accused of a crime trying to start her live on a blank slate. And a very quiet dentist who didn't know he needed the talkative assistance in his life. But when her past starts to unravel and his heart starts falling for this wrongly accused lady; will they be able to clear her name, or will they uncover more than they imaged to this mystery of love?
I loved this book. It was clean, funny and very entertaining. There is even a little bit of mystery behind her past, and a little bit of adventure to uncover some hidden lies… I don't really have any 'cons' for this book. I still think it was written for women not girls, but there isn't anything in it that would make a 12 year-old faint. There is mention of a women being a flirt when she was younger. And… that's it!
Over all, this is a very good book for young women. I highly suggest it, and I am sooooooo finding more by this author. I hope you all have a very pleasant day. -The Young Llama Reader.
Pros
A very good book for girls!
Baker Book House!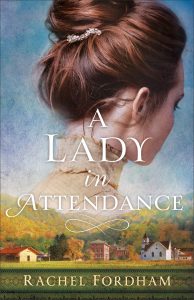 Five years in a New York state reformatory have left a blemish on Hazel's real name. So when she takes a job as Doctor Gilbert Watts's lady in attendance in 1898, she does so under an alias. In the presence of her quiet and pious employer, Hazel finds more than an income. She finds a friend and a hope that if she can set her tarnished past in order, she might have a future after all.
As Gilbert becomes accustomed to the pleasant chatter of his new dental assistant, he can't help but sense something secretive about her. Perhaps there is more to this woman than meets the eye. Can the questions that loom between them ever be answered? Or will the deeds of days gone by forever rob the future of its possibilities?
Rachel Fordham pens a tender tale of a soft-spoken man, a hardened woman, and the friends that stand by them as they work toward a common purpose–to expunge the record of someone society deemed beyond saving–and perhaps find love along the way.
Was this post helpful?
Let us know if you liked the post. That's the only way we can improve.