Young Llama Thoughts
Adventurous

Christian Friendly

Easy Reading

Humerous

Youth Appropriate
Overall
4 Llamas










Review
I love this book! I've lost count how many times I have read it. It's adventurous, romantic, and inspiring. This book is a continuation of the Dericott Tale series by Melanie Dickerson. The first book followed the life of the sister of seven brothers. (If you're curious about that book, check out the Court of Swans in the reviews.) This story focuses on the eldest brother and a young woman searching for refuge.
Audrey wants a life of adventure and love. Growing up with her cruel sister, she is always afraid, and she is trapped in her father's expectation for her to marry someone far older than her. The only thing she can do is run away, which only leads to more danger and risk. Audrey finds herself under the protection of Lord Dericott, a man hurt by the past and suffering from a tragic injury. And when her sister begins looking for Audrey, she brings danger to Dericott Castle, forcing Audrey and Lord Dericott together into a life-threatening adventure.
This book was truly incredible! As a spin off of the Ugly Duckling, it shows two people, both hurt and considered damaged in their world, finding love and comfort with one another. Yes, this book is romantic, but it's also adventurous, leaving you on the end of your seat while reading. However, this story does has some topics you should consider. There is violence, mention of blood, the main character does get pushed into fire at a young age, (She suffers some burns, nothing more.) and Audrey's sister is mentally disturbed in the book, making her dangerous and violent. And in a time period such as this one, it was very common for woman to have no other duty than to marry and have children. While these topics were very common in this time period, I would say that this series is about 14 to 15 years and up for readers. I would not recommend this series to children.
Overall, Melanie Dickerson has done it again. This story is a must read and one that leaves you craving more. I love this book so much and continue to read it over and over again as a result. I absolutely recommend it to teens and young adults searching for historical romance that is also Christian-friendly. You won't regret it.
I hope you liked my review. And I can't wait for the next story in the Dericott Tales!
– The Tiger Reader
Pros
Christian-friendly
Great book for teens and young adults
Adventurous
Inspiring
Cons
Mention of violence and blood
The older sister is mentally disturbed, making her violent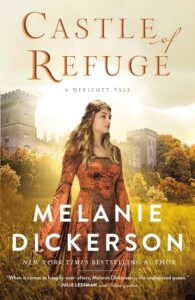 Ever since she was a child, Audrey wanted her life to be extraordinary. But as the daughter of a viscount born in late fourteenth-century England, the only thing expected of her was to marry—until an act of malice by her sister, Maris, four years ago damaged her face and her prospects. Though Maris was sent away, twenty-year-old Audrey is still suffering the scars of her sister's cruelty. When her father announces his plans to marry off his damaged daughter and bring Maris home, Audrey decides to flee in search of her true destiny.
Life outside her home is dangerous, and Audrey soon finds herself attacked, sick, and in desperate need of help. She is taken in at Dericott Castle to be nursed back to health. While there, she decides to keep her identity a secret and work as a servant in the castle. But she doesn't count on falling in love with the young and handsome Lord Dericott, who lost his arm several months earlier and bears scars of his own.
Meanwhile, Edwin—Lord Dericott—is curious about the new, well-educated servant's identity. All he knows is that he's quickly becoming smitten with her. When the man Audrey's father wanted her to marry comes looking for her, she and Edwin must make life-changing decisions about what to believe and whether or not love is truly worth trusting.
Was this post helpful?
Let us know if you liked the post. That's the only way we can improve.