Young Llama Thoughts
Adventurous

Christian Friendly

Easy Reading

Humerous

Youth Appropriate
Overall
3.8 Llamas










Review
I am always looking for more books for boys. I feel bad, because guys have a limited number of books that aren't sports! So, I saw this book and thought some 8 year old boy would love it!
The book is about the Spider-Man Homecoming movie. It follows the plot line to a "T" and is perfect for young boys! Perfect for ages 6 and up! (If you can read basically…)
The book was fun, action-filled and really followed the movie. Sadly, this book does end halfway through the movie. And there is no other novel to complete it… This is just like the Mandalorian novel, and is short and to the point. Marvel really needs to have more novels and less comics in my opinion. I would have LOVED to have a nice thick, 20 pound book to read! Sadly, this is it.
Over all, even though this book is very short, (and I finished it in like half-a-hour) it is a great book for young boys. Have a "Super" day! -The Young Llama Reader.
Pros
A super great book for young boys!
Very clean and action packed!
Cons
Is only like half of the movie.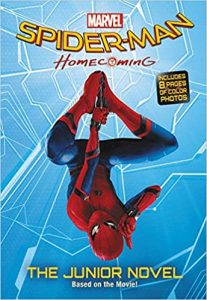 A junior novel based on the web-slinging teenaged hero in MARVEL's Spider-Man: Homecoming!
Was this post helpful?
Let us know if you liked the post. That's the only way we can improve.