Young Llama Thoughts
Adventurous

Christian Friendly

Easy Reading

Humerous

Youth Appropriate
Overall
2.7 Llamas










Review
This book was sent to me by Baker Book House for my honest review. And honestly I didn't like it. I thought I was getting a book about a women who was dying and all the amazing adventures she had… Instead I got a book about a women dying who had no adventures…
This book is about Mrs. Kip who has just entered hospice care, and a young reporter who is tasked with writing her obituary. But as they get to know each other they begin to see that God put them together for a reason. To share the life of Mrs. Kip to the world.
Ok, I am not a realistic fiction kind-of girl. So when I got this book I though it was going to be about all these sort of amazing adventures and was disappointed. This book is very realistic death, (that describes in semi-detail what hospice is like) and doesn't really interest me…
I ended up not even finishing the book in the end because I was just bored of reading a really sad, lonely death. I'm sure the book has a wonderful ending where she dies in peace and everyone learns about love and hope or something but I really didn't like the book enough to find out.
Over all, I didn't love the book. (I didn't really even like it) If you like a good sad read with no adventure, this book is probably meant for you. Thank you Revell Reads for sending me this book. -The Young Llama Reader.
Pros
A book about hope.
Christian-friendly.
Cons
Super sad…
Very realistic…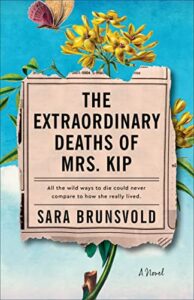 Aidyn Kelley is talented, ambitious, and ready for a more serious assignment than the fluff pieces she's been getting as a cub reporter for the
Kansas City Star
. In her eagerness, she pushes too hard, earning herself the menial task of writing an obituary for an unremarkable woman who's just entered hospice care.
But there's more to Clara Kip than meets the eye. The spirited septuagenarian may be dying, but she's not quite ready to cash it in yet. Never one to shy away from an assignment herself, she can see that God brought the young reporter into her life for a reason. And if it's a story Aidyn Kelley wants, that's just what Mrs. Kip will give her–but she's going to have to work for it.
Debut author Sara Brunsvold delights with this emotional multigenerational story that shows that the very best life is made up of thousands of little deaths to self. You'll want to be just like Mrs. Kip when you grow up!
Was this post helpful?
Let us know if you liked the post. That's the only way we can improve.