Young Llama Thoughts
Adventurous

Christian Friendly

Easy Reading

Humerous

Youth Appropriate
Overall
4 Llamas










Review
This book was sent to me by Baker Book House for my review, and I loved it. It was beautiful, sweet, heartwarming, heartbreaking, and filled with forgiveness and love that would make God smile! This book is perfect for any girl 14 and up looking for a sweet romance to read.
The book is about 2 different couples trying to survive in the world. A famous song writer betrayed by a friend, a broken women trying to just survive, a man trying to run his fathers dying company, and a women hoping she has what it takes to reopen her family legacy. Both trying to pretend that love isn't gonna happen in their life. And both very wrong…
I loved this book! It was fun, interesting, captivating, and very clean, a great book for any girl 14 and up! And this book talks about the real world too. I think that's one of the things I really like about Baker Book House. It's not just a sappy love story, but it's a story about God's love and forgiveness with a little bit of real world sprinkled in. It just makes your heart smile, cry and rejoice to see someone saved in the end!
Anyways, this book does talk about the real world. There are mentions of abuse, abandonment, bruises, partying, getting pregnant, and over all life. But there is also mention of love, hope, joy in hard times, peace and forgiveness! This book gives you a glimpse of what the world is without Jesus, then it gives you the love you were missing!
Over all, this is another beautiful book to add to my shelf. And I suggest you do the same! Have a wonderful day! (Oh! I forgot to mention, I received book 3 in the series, so you should probably start with book 1!!!) -The Young Llama Reader.
Pros
A beautiful book to inspire and cherish!
Perfect for girls 14 and up!
Christian-friendly!!!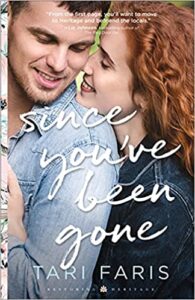 Leah Williams is back in the quaint town of Heritage, Michigan, and ready to try again to make her business a success. But blank slates are hard to come by, and a piece of her past is waiting for her there. Heir to the Heritage Fruits company, Jonathan Kensington is the guy who not only made Leah's past difficult, he also seems determined to complicate her present as well.
Jon is trying to prove to the Heritage Fruits board that he, not his manipulative uncle, should be running the business. The board insists Jon find a new owner for the building that will house Leah's business. To avoid forcing a buyout of Leah's part of the building, Jon strikes a compromise with Leah, and the two go into business together. With her vision and his know-how, it might work. And Leah might realize he's loved her since high school. If only he didn't keep on shooting himself in the foot by boxing her out of important decisions.
Sparks fly in this romantic story of two people who must learn to trust both each other and the one who called them to this journey.
Was this post helpful?
Let us know if you liked the post. That's the only way we can improve.