Young Llama Thoughts
Adventurous

Christian Friendly

Easy Reading

Humerous

Youth Appropriate
Overall
4.2 Llamas










Review
"SNIFF!" This is the LAST book in the Enola Holmes series!!!!!! (Oh why?!?!?!?!! I hate it when a book series ends….) However, this book was beautiful!!! (And heartbreaking!!!!!!)
Enola Holmes has survived an entire year in London now, all by herself. Still solving mysteries, helping people and hiding from her brothers. But when a Duke hires her to find his missing wife, and a package from her mother arrives! Will she be able to find the Missing Duchess, and will Enola finally find her mother?
This book was AMAZING!!!!!! The action, mystery, and plot twists were AWESOME!!!!! But, this series isn't a kids book due to mentions of certain things. Corsets making women deformed, kidnappings, people starving and dying on the streets of London. And other such things. (Plus murders, knifes and people being attacked…) But even with that mentioned, (never described in detail) the books are VERY clean for girls 14 and up!
Over all, I TOTALLY suggest this series! I was very pleased the Enola Holmes books were so good! And I TOTALLY suggest them! -The Young Llama Reader.
Pros
An amazing end to the Enola Holmes series!
PERFECT for girls 14 and up!
LOVE!!!!!
Cons
Some violence mentioned.
Mention of 14 and up stuff…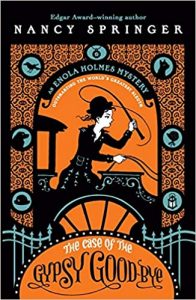 Enola Holmes–younger sister to Sherlock Holmes–is back on another case!
As Enola searches for the missing Lady Blanchefleur del Campo, she discovers that her brother Sherlock is just as diligently searching for Enola herself! Sherlock and Enola must solve a triple mystery: What has happened to their mother? And to Lady Blanchefleur? And what does either have to do with their brother, Mycroft?
Was this post helpful?
Let us know if you liked the post. That's the only way we can improve.