Young Llama Thoughts
Adventurous

Christian Friendly

Easy Reading

Humerous

Youth Appropriate
Overall
4.6 Llamas










Review
I love almost all of Gordon Korman's books; but this might be a new favorite of mine!!!!!!!! (Some of my favorites are Restart, Ungifted, Schooled, and The Unteachables.) But this book is just as good as the rest!
The book is about this super rich kid whos dad sends him to a meditation camp to help "calm" his wild spirit. But there's a catch, no electronics. So now Jett has to survive with no internet access, no meat, and no fun. But when Jett starts to notice some strange things, he might have to make some real friends to survive the Oasis. (And maybe falling in love with a tiny lizard happens too!)
This book was SUPER clean, with only some normal bathroom talk. Mentions of gas, and bad food. That's it. Other than that, the book was SUPER AWESOME! It was funny entertaining and really interesting to read. There's action, humor, mystery and cute tiny lizards!!!!! (What's not to love?!?)
Over all, a great read for any kid! I would say 6 and up? I totally suggest this book to boys and girls alike, and I hope you have a nice day! -The Young Llama Reader.
Pros
A very clean, HILARIOUS story!
Perfect for young boys!!!!!
Cons
Some mention of bathroom talk.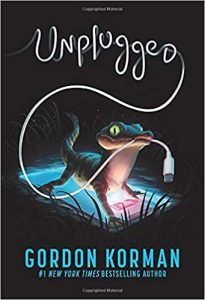 As the son of the world's most famous tech billionaire, spoiled Jett Baranov has always gotten what he wanted. So when his father's private jet drops him in the middle of the Arkansas wilderness, at a place called the Oasis, Jett can't believe it. He's forced to hand over his cell phone, eat grainy veggie patties, and participate in wholesome activities with the other kids, who he has absolutely no interest in hanging out with.
As the weeks go on, Jett starts to get used to the unplugged life and even bonds with the other kids over their discovery of a baby-lizard-turned-pet, Needles. But he can't help noticing that the adults at the Oasis are acting really strange.
Jett is determined to get to the bottom of things, but can he convince everybody that he is no longer just a spoiled brat who is making trouble?
Was this post helpful?
Let us know if you liked the post. That's the only way we can improve.