Young Llama Thoughts
Adventurous

Christian Friendly

Easy Reading

Humerous

Youth Appropriate
Overall
3.4 Llamas










Review
This book was sent to me by Baker Book House. And it was very good!!! I read it in 2 days and LOVED IT!!! I definitely suggest this books to girls 16 and up.
This book is about a woman who's father has been researching his whole life about the water from the Garden of Eden. Of course she thinks it's silly and no such thing could exist, but when her father falls into a coma after finding what he claims is it. What if it does exist. And what if it can take you back in time as well…
The book was very interesting and fun to read. But it is NOT  a kids book. There is lots of mention of married couples trying to find sheets for their bed together; and the husband really wants to find a specific sheet fast and the wife wants to wait. Plus a lot of violent violence. People being tortured and cut up, killed in horrible ways and vultures… eating… Other than that the book is very clean.
Over all, this is a book I very much enjoyed. However, it is more for adults than teens. Thank you Baker Book House for sending it to me. And may YOU have a good day! -The Young Llama Reader.
Pros
A good book for girls 16 and up.
Christian-friendly.
Time travel!
Cons
NOT a kids book.
Lots of mention of violence.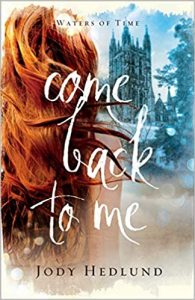 The ultimate cure that could heal any disease? Crazy.
That's exactly what research scientist Marian Creighton has always believed about her father's quest, even if it does stem from a desire to save her sister Ellen from the genetic disease that stole their mother from them. But when her father falls into a coma after drinking a vial of holy water believed to contain traces of residue from the Tree of Life, Marian must question all of her assumptions. He's left behind tantalizing clues that suggest he's crossed back in time. Insane. Until Marian tests his theories and finds herself in the Middle Ages during a dangerous peasant uprising.
William Durham, a valiant knight comes to Marian's rescue and offers her protection . . . as his wife. The longer Marian stays in the past, the more she cares about William. Can she ever find her father and make it back to the present to heal her sister? And when the time comes to leave, will she want to?
Bestselling author Jody Hedlund is your guide down the twisting waters of time to a volatile era of superstition, revolts, and chivalry in this suspenseful story.
Was this post helpful?
Let us know if you liked the post. That's the only way we can improve.