Young Llama Thoughts
Adventurous

Christian Friendly

Easy Reading

Humerous

Youth Appropriate
Overall
4.5 Llamas










Review
This is a perfect book for kids and teens right now! Cause even though it's funny and very sweet, it also talks about how black people are treated differently! (This is like the perfect Book of the Month right now!)
The book is about a girl who loves to bake and wants to be a star baker; when suddenly she receives a letter from her father who is in prison. And they start writing back and forth to each other. Then one of his letters says he's innocent. And Zoe Washington sets out to prove him right!
The book was awesome and beautifully written! They go to try to find witnesses and lawyers to help her dad, and it is just so fun to read! Though there is a lot of mention of how black people are treated differently. Which I think is perfect for the book. She is black, why can't the book mention the injustice that she may have to suffer when she's older? I hate that there is injustice towards people with dark skin, but pushing it out there for everyone to see is the best way to start change!
Over all, I must read and a beautiful book for anyones bookshelf! And I am in full support of this author as well; mentioning #BlackLivesMatter was what really sold it for me! I believe the only way to defeat the evil in our country is to show people it's there, and pray they will do what is best! I hope you all have a great day! -The Young Llama Reader. #BlckLivesMatter
Pros
A VERY good book for kids and teens!!!!
#BlackLivesMatter
A must read any day!!!!
Cons
Mention of how black people get treated differently.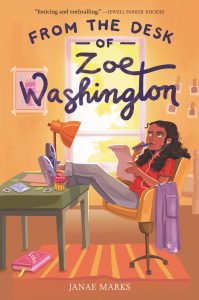 Zoe Washington isn't sure what to write. What does a girl say to the father she's never met, hadn't heard from until his letter arrived on her twelfth birthday, and who's been in prison for a terrible crime?
A crime he says he never committed.
Could Marcus really be innocent? Zoe is determined to uncover the truth. Even if it means hiding his letters and her investigation from the rest of her family. Everyone else thinks Zoe's worrying about doing a good job at her bakery internship and proving to her parents that she's worthy of auditioning for Food Network's Kids Bake Challenge.
But with bakery confections on one part of her mind, and Marcus's conviction weighing heavily on the other, this is one recipe Zoe doesn't know how to balance. The only thing she knows to be true: Everyone lies.
Was this post helpful?
Let us know if you liked the post. That's the only way we can improve.